Mum kicked porn-watching husband out!
Publish Date

Thursday, 19 April 2018, 4:34PM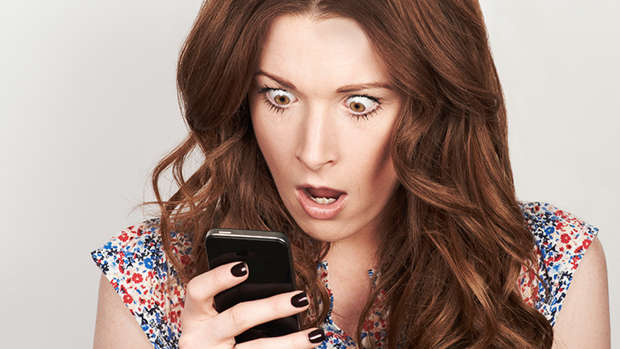 A mother has revealed she has thrown her husband out of their home after discovering pornographic pictures on his phone. 
The unnamed woman took to parenting forum Mumsnet to seek advice from other parents after she found the material when looking through their family snaps, the Daily Mail reports. 
Revealing that she threw water in his face and told him not to return, the mother asked whether other women tolerated their partners looking at porn. 
And while some mothers agreed that they don't tolerate it, the majority accused her of overreacting, arguing that she was, in fact, the party in the wrong.
Kicking off the controversial thread entitled 'Am I being unreasonable', the woman wrote: 'Had lovely family lunch out, DH (dear husband), myself, DD (dear daughter) and DS (dear son). 
'Came home, DH has to cut the grass. Leaves his phone with me whilst he does to view new family member photos, then I find 3 videos and 2 photo's of downloaded stuff that shocked me to the core.
'Didn't jump down his throat at first as I know his brother has sent him things before that he shouldn't have, but then he freely admitted he had downloaded them and his defence was - It's lesbian porn.'

Even more, enraged by his explanation, she continued: 'Threw a glass of water in his face and shoved him out the door and told him not to return. Does anyone else tolerate porn? I don't even know.'
And a few women agreed with the enraged mother, with one woman slamming the industry and effects of porn. 
'It's perfectly okay to not want porn in your (or your husband's life),' she wrote. 
'If people actually read at all and did any research they would realise how bloody awful porn is - for your mental and physical health, for your relationship, for the poor women who work in the industry, and society at large. Unfortunately, all some people care about is their own orgasms.'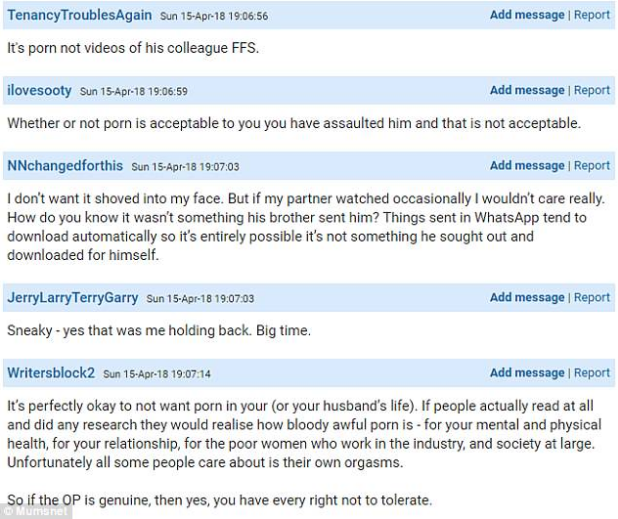 Another mother revealed she would also dump her husband over it, writing: 'I think porn gives an unhealthy view of sex and he's watching other women have sex and getting off on it. That's ok with some people and not others. I think that's up to you to decide. 
'It would be marriage over for me and he knows it. I wouldn't throw water in his face though.'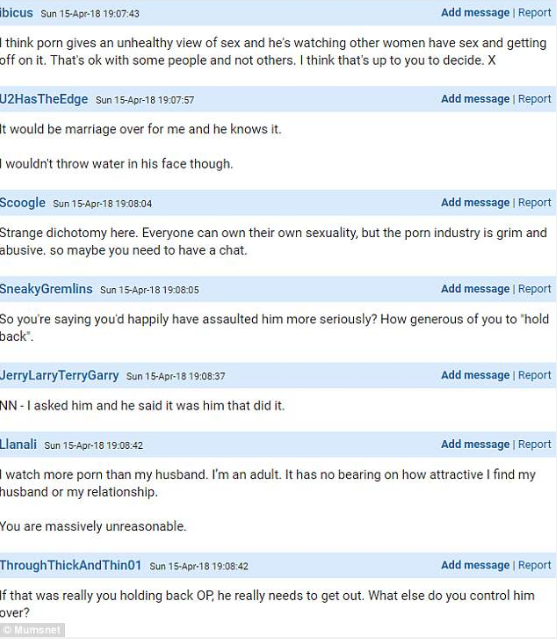 However, a whole host of women slammed the mother's actions, with one even admitting that she enjoyed porn more than her husband.  
'I watch more porn than my Husband. Get a f*****g grip,' she wrote.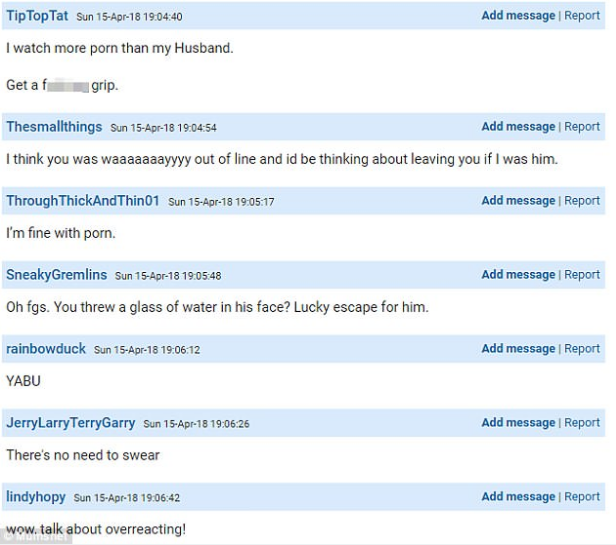 Another argued that the woman's actions were worse than her husband's, adding: 'I think you was waaaaaaayyyy out of line and id be thinking about leaving you if I was him.'
And plenty of users agreed, with one writing: 'Blimey. I doubt he'd want to come back after that reaction,' while another said: 'I don't want it shoved into my face. But if my partner watched occasionally I wouldn't care really.'
Meanwhile, another accused the woman of overreacting, one wrote: 'I watch more porn than my husband. I'm an adult. It has no bearing on how attractive I find my husband or my relationship. You are massively unreasonable.' 
This article was first published on Daily Mail and is republished here with permission.