Israel Folau tweets divisive YouTube video with anti-gay sentiments
Publish Date

Tuesday, 8 May 2018, 4:16PM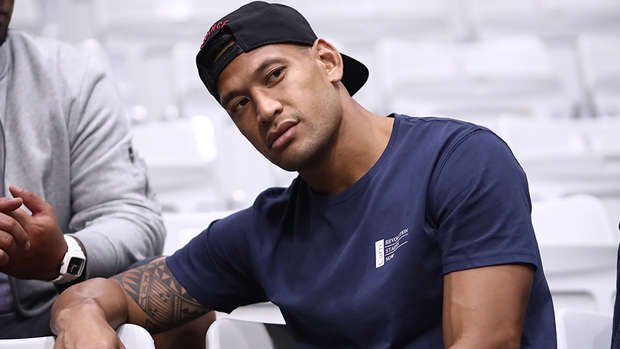 Israel Folau has taken to social media, once again, to express his Christian beliefs, tweeting a YouTube video link from late American Evangelist David Wilkerson that may raise eyebrows at Rugby Australia.
READ MORE: ISRAEL FOLAU IN HOT WATER AGAIN AFTER HOMOPHOBIC POST
Folau tweeted the video with the words: "With great love I wanted to share this video in the hope that people watch it and think about it. Jesus is coming back soon and he wants us to turn to him through repentance and baptism in the name of Jesus Christ (Acts 2:38) please don't harden your heart."
WARNING: This video contains footage of a mouse being killed by a trap.
Wilkerson's video is an 11-minute sermon entitled "It's time to get right with God" that includes references and visual imagery about homosexuality, describing "tolerance" as a misguided belief of modern-day society, particularly among young people.
Wilkerson takes aim at the acceptance of homosexuality in modern times, and said: "It's time to get right with God as Jesus is coming very soon. He's at the door."
The public had mixed reactions to the latest video.
Folau sparked public outrage with his comments on social media last month, claiming God's plan for gay people is hell.
READ MORE: ISRAEL FOLAU PENS OPEN LETTER 
Rugby Australia then chose not to sanction Folau, Castle saying: "In his own words, Israel said that he did not intend to upset people intentionally or bring hurt to the game. We accept Israel's position."
Speaking last Thursday, Folau said he would not let the backlash affect his commitment to the sport he loves.
"I stand firm in what I believe in and that's something personal with who I am," Folau said.
"That's something that comes truly from the bottom of my heart. That doesn't interfere with anything to do with my rugby and the guys around me.
"As team-mates, I'm still the same person and I try to bring that energy as best I can when I'm around the team and obviously going out and playing on the weekends doesn't change who I am. That's the most important thing that I've learned probably the last month."
All Blacks TJ Perenara and Brad Weber have spoken out against Folau's comments, while many fans have also expressed their disappointment.
However, the 29-year-old - who recently wed Silver Ferns star Maria Tutaia - said he wasn't hurt by the backlash.
"Absolutely not," Folau said when asked about the criticism he received. "I don't take anything personally. I understand everyone is entitled to their opinions and I've said what I've said in recent weeks. I leave it there."
Meanwhile, Folau is rumoured to be entertaining a move north and a switch to Queensland Reds. The Daily Telegraph reports Folau has held preliminary discussions with Reds coach Brad Thorn.
- NZ Herald