American teenager posts the horrifically racist texts that her dad sent her after her prom
Publish Date

Friday, 12 May 2017, 1:13PM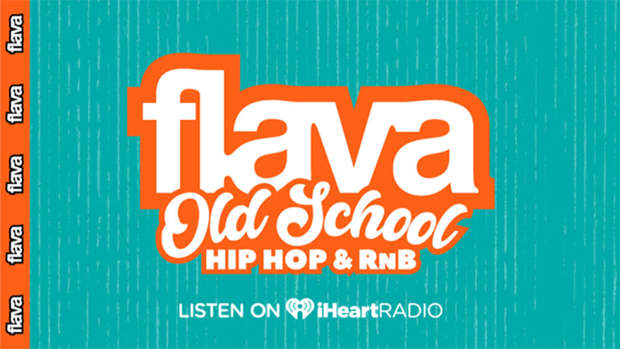 Anyone who doubts that racism is still alive and well in America need only to look at the shocking text exchange between one white Arkansas father and his teenage daughter regarding her prom date.
Anna Hayes, a high school senior from Lake Village, Arkansas attended prom last week with a male friend, Phillip Freeman - who happens to be black.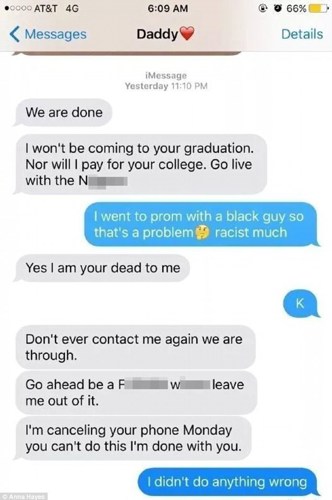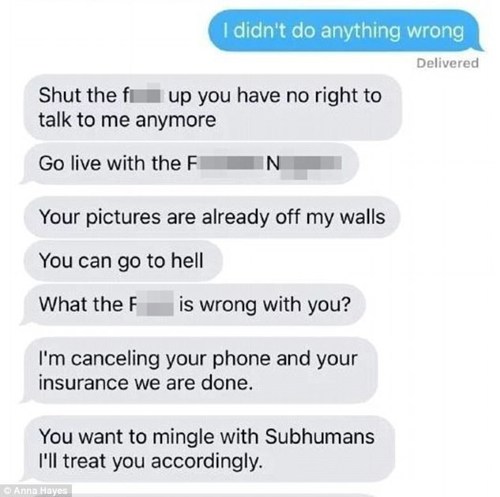 When her father - whom she does not live with - saw the photos, he was livid and sent her a tirade of racist, sexist text messages telling Anna he was disowning her and calling her and her date heartbreakingly offensive names.
In photos shared on Facebook, Anna and Phillip look picture-perfect on their way to the big dance.
Anna wore rad lipstick to match her lacy scarlet mermaid gown, and Phillip layered a matching red suit jacket over a black button-down and slacks.
Anna said that though Phillip is just a friend, he's also "really funny" and "super cute", so she snatched him up as her prom date.
Unfortunately, Anna's dad - who she says has always been vocally racist - saw the snaps online and wasted no time sharing his disappointment with her in an incredibly abusive manner.
"We are done," he texted her. "I won't be coming to your graduation. Nor will I pay for your college. Go live with the n*****s."
Anna explained to BuzzFeed that she and her dad have had a strained relationship for years. Her parents are divorced, and though she lived with him briefly as a child, she's been in her mother's house since her early teens.
His tirade, however, seems to have gone beyond any uncomfortable words they'd shared in the past.
Responding to his initial texts, Anna wrote: "I went to prom with a black guy so that's a problem ... racist much."
"Yes I am,"' her dad wrote back unabashedly before continuing with the grammatically incorrect pronouncement: "Your dead to me."
"Don't ever contact me again we are through,' he added. "Go ahead be a F***IN wh*** leave me out of it. [sic].
This article was first published on dailymail.co.uk and is republished here with permission.