Tokoroa couple stuck in Australia with 'miracle' premature daughter born at 23 weeks
Publish Date

Sunday, 6 May 2018, 7:42PM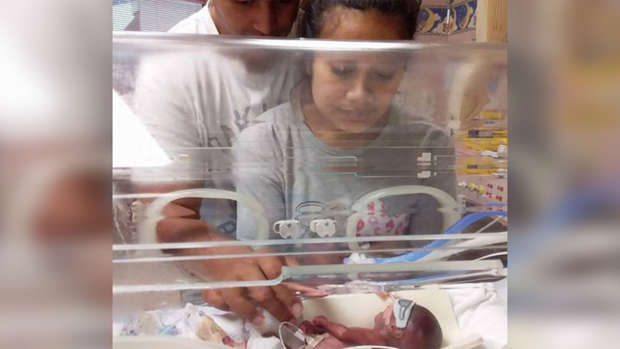 Lotomau Matekohi was supposed to be in a university classroom this week.
Instead, thousands of kilometres across the Tasman, she sits next to her newborn's incubator singing lullabies.
Lotomau, 24, and husband Reginald Matekohi, 23, who live in Tokoroa, have been stuck in Australia since their daughter was born at 23 weeks - four months premature on April 20.
The couple were visiting friends in Adelaide when Lotomau went into labour.
"It was kind of shocking, Lotomau said.
"I think I knew that baby was coming because of the pain I was in, I could feel she wanted to come."
Doctors at Adelaide Women's and Children's Hospital tried to stop her contractions with medication but baby Angelina arrived weighing 510g, about the size of a block of butter, and measured 29.5cm.
Reginald said their daughter wasn't breathing when she came out, and doctors gave them the option of resuscitating her or "letting her die in your arms".
"The doctor said it was highly unlikely she would respond, but then he put the ventilator in and she started breathing.
"We were really happy, we didn't want to give up on our daughter straight away, and that was the first ten seconds of her life."
Since Angelina's birth she's been in a critical condition in the hospital's Neonatal Intensive Care Unit.
The two-week-old needs support to breathe, has nutrients provided through tubes in her nose, and an IV for blood transfusions, extractions and medication.
Doctors have recommended the Matekohis limit cuddles to once a day, as it takes up a lot of Angelina's energy to be out of her incubator.
"We have skin to skin time," Reginald said.
"She's tiny, it's really scary to hold her just because she's so small, you feel like any movement you make is going to break her."
The couple face another four months in Australia caring for Angelina.
"Pretty much all day we're there with her. We've got to spend every minute with her, because we don't know if it could be her last."
Reginald said they could open the incubator to touch their baby, and help nurses change her nappy and wipe her face.
"We'll read stories to her, and my wife has a beautiful voice so she sings lullabies to her."
The couple are enrolled at University of Waikato studying primary school teaching and want to continue.
"It's pretty hard," Reginald said.
"The leader of the programme said it's probably a better option to withdraw and start back again next year."
Their student allowance was also helping them pay for costs like petrol and hospital parking while overseas.
Reginald was trialling at a lawn mowing company in Adelaide and interviewing at McDonalds to support themselves.
The couple had a strong faith and were staying with friends from church.
Reginald said Angelina was a miracle, and hoped other parents in a similar situation would be strong and have hope.
"Our babies are a lot stronger than they look and we think."
University of Waikato Dean of Education Professor Don Klinger said their thoughts and well wishes were with the couple, and they would work with them to support them and look at how they could best continue their study.
The Ministry of Foreign Affairs and Trade confirmed the New Zealand High Commission in Canberra was in contact with the hospital treating Angelina, and had offered consular assistance to her family.
Executive director of Neonatal Trust Neil O'Styke said having a premature baby brought with it a period of high stress and anxiety.
"Not only is it not the arrival they were hoping for, but they're in a foreign country without their family support around them, and facing a pretty long battle until they can get their child home."
O'Styke said it was "very rare" for a baby to arrive at 23 weeks.
Complications later on could include learning difficulties, cerebral palsy, and other challenges associated with a baby developing outside of the womb, he said.
"But it's really important to note it's not a linear thing, you could have a baby born at 24 weeks and not have any issues, but you could also have a baby arrive at 30 weeks with issues- it's not a black and white rule."
O'Styke said the trust was happy to offer support to the new parents.
THE FACTS
• About 10 per cent of babies are born premature (before 37 weeks gestation) in NZ a year
• In most premature births, a mother goes into premature labour with no warning
• Less than 0.1 per cent of all births (about 60,000 annually) are premature
• Among NZ smallest surviving babies, Tia-Jane McVeigh was born in 2015 at 23 weeks, weighing 516g. Holly Blaney born in 2013 at 23 weeks weighing 600g
Funds are being raised here for the Matekohis on Givealittle
NZ Herald