'The boys will dig it up': The big family row over Jonah Lomu's headstone
Publish Date

Sunday, 10 June 2018, 9:07AM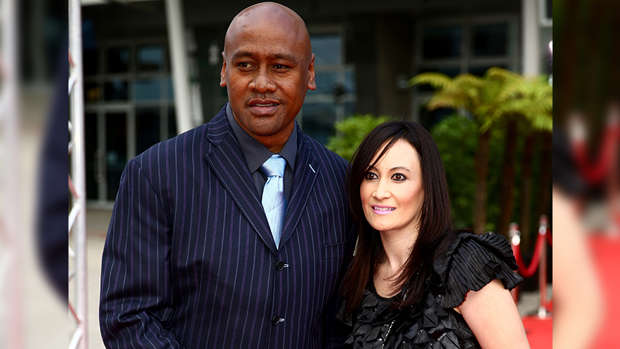 A fresh row has broken out over Jonah Lomu's grave ahead of the unveiling of his headstone tomorrow.
Lomu will eventually get a headstone – almost three years after his death – at an unveiling ceremony tomorrow organised by wife Nadene.
But Lomu's side of the family were only told about it on Thursday and have fears the epitaph will ignore members of the family.
And Lomu's mum Hepi will miss the ceremony as she flew to Fiji on Friday on a trip arranged before she knew of the plans.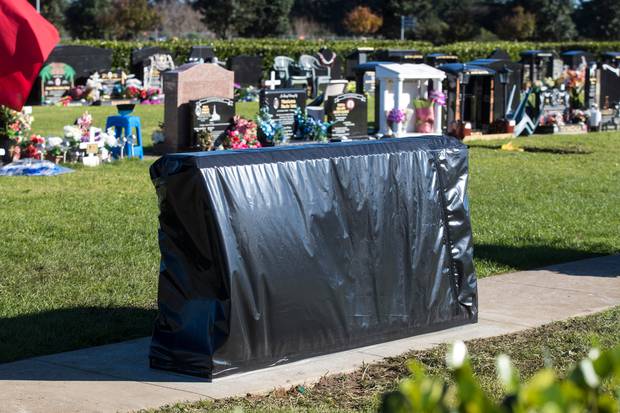 The legendary All Black died on November 18, 2015 of a heart attack following a long battle with kidney failure.
Lomu's third wife Nadene - who he had two sons with - is in charge of his grave at the Manukau Memorial Gardens.
His burial plot - like fellow Pasifika players Peter Fatialofa, and Dylan Mika - reflects the number on his All Blacks jersey: in his case 11.
"We're a bit suspicious about the timing of the unveiling – we just found out like everybody else on Thursday," his brother John Lomu told the Herald on Sunday.
"But I am glad it's done and even if Mum can't make it Jonah can finally rest in peace."
Lomu's mother Hepi Lomu was already booked on a flight to Fiji on Friday and was unable to change her airfares in time to attend the unveiling.
John Lomu said he understood from a conversation he had with Nadene that the headstone was completed earlier this year.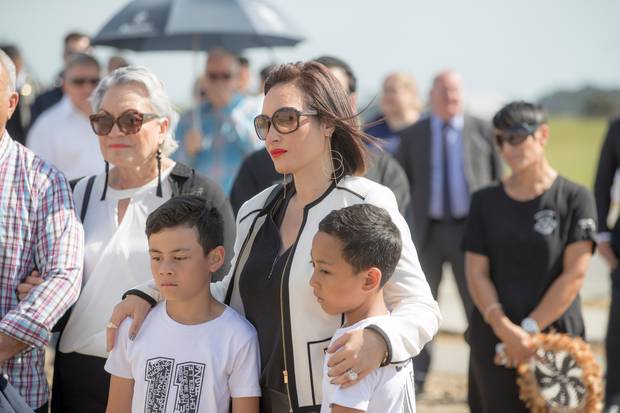 "We were talking at the start of the year but somewhere along the lines of communication broke down," he said.
"She was putting it out there the headstone was finished.
"But there was no headstone and she asked me if I would contribute to it."
Lomu's close friend and personal trainer Henry Vaeoso suspected the unveiling was timed to coincide with the French Test series against the All Blacks.
"It wouldn't surprise me if Nadene has planned this while the French team is out here," he told the Herald on Sunday.
Vaeoso said he was deeply concerned about the epitaph on the headstone.
He claimed it was written without consultation with members of the Lomu family.
"I hope if there is anything on the stone it would be Jonah's mum, his siblings, Nadene and the two boys.
"It better not have Nadene's parents on it because it would be a big insult to the Lomus ... I know the boys will dig it up."
Vaeoso said he wanted his friend's name to be remembered "for the good things".
"And not be tainted with this family who has come out of nowhere and told they are the only ones that matter," he said.
Vaeoso will attend tomorrow's service with Lomu's "tight five" - Michael Jones, John Hart, Eroni Clarke, Junior Tonu'u and John Lomu, all loyal friends who have stood by him from "day one".
Vaeoso still visits his "best mate" once a week.
The grave sits near Fatialofa and Mika who lie in plots 1 and 6.
"I think it's beautiful Dylan and Peter 'Fats' are lying beside Jonah," Vaeoso said.
"The lucky bastards get to hang out with David Bowie, Prince, George Michael and Jonah's dad Semisi - they picked their time perfectly.
"But I don't want the rest of the row filled up with numbers."
Nadene Lomu, who launched her cosmetics company last year, declined to comment.
John Lomu said his mother also didn't have much contact with her grandsons Brayley, 10, and Dhryeille, 9.
"Mum hasn't seen the boys, she's just resigned to it," John Lomu said.
"She told us 'not to worry' if we don't get to see them.
"When the kids are old enough and they have questions about their dad they want know, we will tell them the truth."
This article was first published on nzherald.co.nz and is reproduced here with permission.