Taika Waititi honoured with famous award in Toronto
Publish Date

Wednesday, 11 September 2019, 1:42PM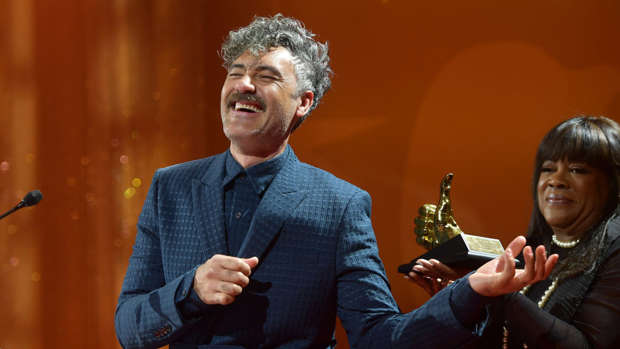 Taika Waititi has won the prestigious TIFF Ebert Director award at a Tribute Gala awards event at the Toronto International Film Festival.
The Kiwi director and actor comes just a day after the world premiere of his new movie Jojo Rabbit – a black comedy in which he plays Adolf Hitler.
"This is a huge honour," Waititi told the audience after being presented with the award from Mexican filmmaker Guillermo del Toro.
"I've been thinking about what to say. I come from New Zealand where we really don't like attention."
Waititi went on to free-style through an entertaining and suitably quirky speech that had the crowd laughing and hanging off his every word.
He explained he felt fortunate to have made his way in the New Zealand film industry before establishing himself as one of the Hollywood's most sought after directors. Movie making did not seem like a viable career path when he first left school in the 80s.
"Filmmaking was not on any list of job opportunities," he said.
"Film – not even acting, not dancing. I think when I went to get on the dole when I left high school, they said 'what are you good at' and I said 'I'm good at diving for seaweed'.
"That's what I put down and so I didn't work for a long, long time. I started making films when I was about 30 after a very tragic attempt at being a seaweed diver."
"Thank you so much TIFF for having me. I really appreciate this and it's so lovely to feel so much love at this festival and… long live New Zealand! Thank you."
Earlier, TIFF Executive Director and Co-Head Joana Vicente lauded Waititi's creative spirit and detailed why the festival had chosen to honour the talented Kiwi.
"Because we felt he's just an incredible, original, unique voice and we felt his film was important," she said.
"Taika is just a fabulous filmmaker and people love his work. [Jojo Rabbit] is really special, it's one of my favourites.
"I loved it. I loved what I felt and I loved the range of emotions and I found it incredibly original.
"I got out of that film and I was touched, it made me think about things."
Taika Waititi is the first director to win the inaugural award. 
This article includes excerpts from an article originally published at nzherald.co.nz and these are reproduced here with permission