Kiwi version of hit card game to be released
Publish Date

Thursday, 1 November 2018, 11:04PM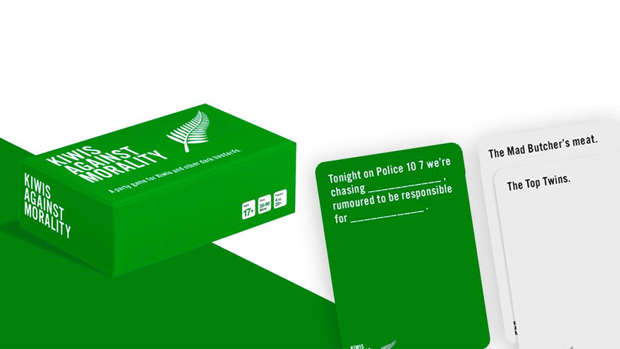 Warning: Some of the content in the images in this article may not be appropriate for a younger audience
The power of the internet...
"Kiwis Against Morality" launched as a crowdfunding campaign on Kickstarter at midday today and became a fully funded project ready to send into production around 4.30pm.
It took the Hamilton-based entrepreneurs Eliot Jessep and Ben Hawken less than 5 hours to reach their $4,500 goal to set up their project to create the Kiwi version of a worldwide hit card game. 
"We launched at midday and genuinely cannot believe the support we've received so far," Jessep told the Herald on the phone around 4.20pm.
"I reckon we'll be fully funded by the time we finish this phone call," he added.
And, he was right.
The pledges came thick and fast and, within a couple of minutes of saying that, Jessep had enough backing on Kickstarter to create the first New Zealand party game. 
READ MORE: Chris Pratt's card trick fail!
They're not mucking around either, within a week of coming up with the idea, the entrepreneurs are ready to send the game to production and get it all made up.
They've described the game as "an offensive game. That's the point,".
So how does it work?
The goal is to finish sentences using some of the finest (as well as the least fine) pieces of Kiwiana events ever heard of. Think Paula's Panini, the Mad Butcher, 1080, David Bain, the Topp Twins and every other Kiwi "classic" you can think of.
In order to have the game ready to ship by Christmas, just in time for Christmas afternoon fun and games with nana, the team will have it printed in New Zealand.
Expansion packs are already on the cards (sorry...) for 2019.
We are SO keen to get this game!
This article was originally published by nzherald.co.nz and is republished here with permission