James Corden has done his best prank yet and it will have you in FITS!
Publish Date

Thursday, 14 March 2019, 8:00PM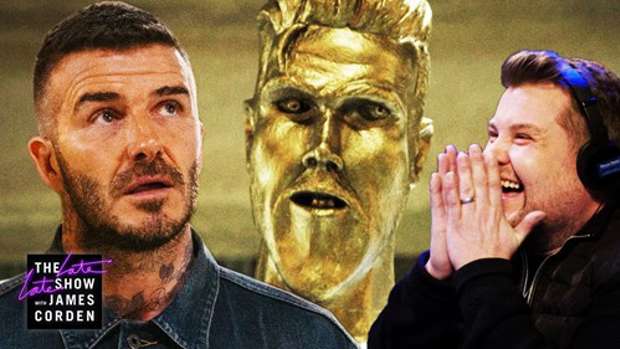 James Corden has just pulled off one of the most epic pranks of all time against David Beckham ...
The host of US TV Show The Late Late Show unveiled the stunt this week, revealing a prank which took him more than two months to plan.
Corden - who is a good friend of the soccer star - coordinated with the Galaxy to reveal a hideous fake statue to Beckham just days before the American side was meant to unveil a real statue of the sportsman.
The fake statue looked nothing like Beckham, with an elongated chin and arms, and an enlarged backside.
Corden also hired actors to pose as fans and try to annoy Beckham while he waited to see the statue.
Beckham was not impressed when he was shown the fake statue by an actor portraying as the sculpturist.
"It doesn't look anything like me," a clearly annoyed Beckham says in the video.
READ MORE: Here's what you need to know about Prince Harry's hot AF cousin
"The only thing that's good is the hair and that's about it."
"Look at my bum. Look at my a***," he added.
How CRACK UP is this!