Crack up State of Origin fail has us like whaaaaaat?!
Publish Date

Thursday, 7 June 2018, 12:01PM
This is probably one of the worst fails that we have ever seen on social media... this one left us like are you kidding me??? SMH!!
Sometimes faking it until you make it just doesn't quite work.
Last night one of the biggest games in the Rugby League calendar took place. The game that causes rivalry in everyone's house, the game that breaks up friendships, the game that causes relationships to end.
STATE OF ORIGIN - QUEENSLAND VS NEW SOUTH WALES
We know everyone wants to feel include when the boys are on the couch, talking about all the players, the teams, the plays, who's going to score first.. hell, they even know the referee's name.
We just want to pretend like we care, be accepted and act like we know what they're talking about... This girl definitely tried to do that, it just went horribly wrong.
This is probably one of the best statuses that we have seen since yesterday. So bad that we actually feel kind of sorry for the poor girl.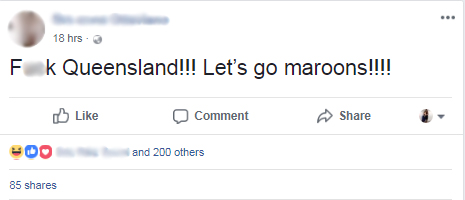 Like, we have no words... #WTF 
Seems everyone is just out here to roast the poor girl now.
"I'm so confused"
"Yeah up the All Blacks ay"
"Why isn't there a WTF reaction on FB"
"Why so dumb tho??"
The girl who posted the status has since replied to many comments saying she was clearly joking... either way this is one of the best things we've seen in ages!