Breakers great Kirk Penny announces his retirement from basketball
Publish Date

Thursday, 22 February 2018, 3:13PM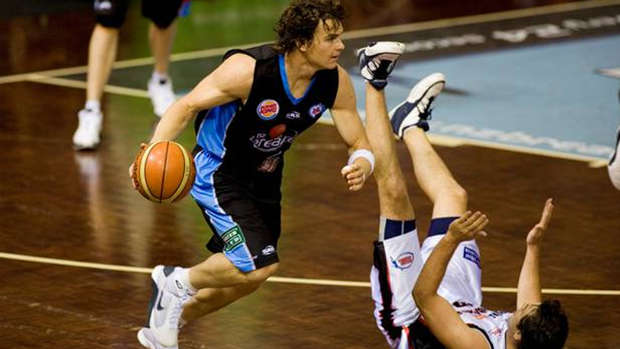 New Zealand Breakers great Kirk Penney has called time on his career announcing today that he will retire at the end of the NBL season.
The former Tall Blacks and NBA player has made the decision ahead of the Breakers semi-final series against Melbourne United which begins on March 5.
Penney has played 158 games for the Auckland franchise across two stints. He played six NBA games for the Miami Heat and LA Clippers followed by stints in the Euroleague. Two years ago he retired from international basketball following 15 years playing for the Tall Blacks.
In a heartfelt letter to the club and its fans, the 37-year-old shooting guard explained his decision was very much made with family's past present and future in mind.
"The Penney family arrived on a boat to New Zealand in 1842. My Dad was born in Kawakawa up north, my Mum in Whitianga on the Coromandel Peninsula. I feel my family has been in New Zealand for a fair while and I'm a typical Kiwi kid who, through the grace of God and the game of basketball, has been given the opportunity to see the world.
"Playing basketball has been a big part of my life and retiring in New Zealand with the Breakers means a lot to me.
"I want to thank Paul and Liz Blackwell and their lovely family for being wonderful friends and inspiring me to come home when I was playing abroad. To be a part of the Breakers culture and the growth of basketball in New Zealand.
"I want to thank Paul Henare and Dillon Boucher for letting me run full circle to have a second stint with the Breakers and finish my race where it all started."
Dillon Boucher is better placed than many to offer comment as Penney's former team mate at club and country, and now as his general manager at the club that has enjoyed such a fruitful relationship with Penney.
"Kirk has had a fabulous career not only for the Breakers but also throughout Europe, flirting with and playing in the NBA, and of course enjoyed a stellar college career at Wisconsin.
"He will go down as one of the all-time greats in our sport, he should be remembered as one of our all-time greatest sports stars full stop. He has consistently been one of the world's premier shooters, from his emergence as a star at college and for the Tall Blacks, to his time back in the NBL and every game in between. Kirk is a true professional and brings that to every team he is on.
"I am glad I got to play with him and then got to recruit him back to finish his career with us. On behalf of the club I would like to thank Kirk for bringing his talents back to New Zealand and I am glad he got to finish his wonderful career playing in the country where it all started."
Penney did however make it clear that there is one job left unfulfilled, and that is to help take his current team to a championship. He first departed the club in 2011, bound for Europe after helping them to their historic first ever title. He is firmly focused on adding a fifth title for the club, and a second for himself in Breakers colours.
""It feels like the right time to step away from the game - at the end of this season. I truly couldn't imagine playing with a better group of people in my last year. My teammates and I are preparing to play as many games as it takes to win the championship for each other, our owners, our staff and our fans.
"Starting in Melbourne and then at home on the fifth of March, it is time to go to work. This has been our goal all year, to earn a spot in the playoffs and see if we can win this thing, I know that we can and can't wait to get back on the floor."
Penney's career numbers
Debuted October 4th, 2007 at NSEC scoring 23 points against West Sydney Razorbacks - Oscar Forman, Mika Vukona played for Breakers that day (Paul Henare was injured).
•3,200 points at 20.3ppg (Tom Abercrombie currently 3,204 at 11.7ppg)
•Has made the most 3-point shots for the club - 483
•158 appearances - 8th all-time
•641 rebounds - 7th a/t
•369 assists - 6th a/t
•125 steals - 7th a/t
• Scored a career high 49 points against Adelaide in 2010, this still stands as the second highest individual score by a Breakers player behind 50 points by Carlos Powell v Melbourne Tigers in 2006
•Currently in sixth season with Breakers, in two stints.
• Kirk has scored 30 points or more in a single game on 30 occasions.
NZ Herald