A new mum has shown the true ' aftermath of birth' in a VERY honest post
Publish Date

Wednesday, 22 August 2018, 1:47PM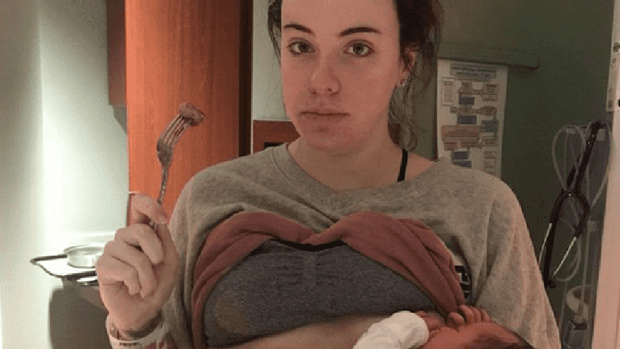 It's no secret that childbirth is tough.
But one mother has been praised online after she shared a refreshingly honest account of what it's really like when you welcome your baby into the world.
Just two days after giving birth to her daughter, Layla, Autumn Benjamin's partner snapped a photo of the pair, which has now been shared over 129,000 times.
The photo - which isn't your usual glamourous newborn snap - was something Autumn felt compelled to share.
"I've debated on this post for a while but I've decided that I'd show the hard parts of the aftermath of giving birth, and the ultimate sacrifice that mothers make from day one," she wrote on Facebook, alongside the raw picture of her two days post-delivery.
Wearing mesh pants and breastfeeding her daughter while simultaneously eating a hospital meal in the photo, Autumn's powerful words have resonated with mums everywhere.
"Kevin snapped this of me. This was 2 days after I gave birth to Layla. Eating my "nice meal" provided by the hospital. An overcooked steak and sides. I was in new territory."
"Learning to breastfeed this little human being that I just brought into the world. Wearing these big mesh panties, still sporting a pregnant belly..." she wrote. "No one told me your belly doesn't go down immediately. No one told me I'd be bleeding out."
READ MORE: 
The new mum then opened up about the unexpected and tough few hours after giving birth.
"No one told me that I would spend hours crying and full of emotion," she said.
"I remember just lying there in the hospital bed crying. I was crying because my baby girl was finally here…but wait..that means she isn't protected inside of me anymore. And that's a scary feeling."
"I think Kevin was at a loss. I realised that when I was being held by him in the hospital's shower and I was just crying uncontrollably. It's all a blur."
READ MORE:
She also touched on the realities of labour and the complications associated with it.
"I was also in so much pain. no one tells you that typically with a "quick delivery" comes a bad rip."
"The weeks following I couldn't walk. I couldn't use the bathroom. I wore these big depends diapers. I never thought I would be normal again."
She then signed off the emotional post by acknowledging the sacrifices mother have to make.
"Mums give up who they were before they were a mother," she wrote.
"Most mums give up a lot of their hobbies, dreams, and plans. Mums put their lives on hold so their babies can live out theirs. We deal with so many emotions that we internalise, just so we can be mothers to our babies."
While it's been several months since the photo was taken, the image has always stayed in Autumn's mind.
Talking about the post she said: "Looking back, it's such a symbol of where I was and how far I've come so far as a new mother. Seeing that picture reminds me why I relate to all these women that have been made to feel alone by the people around them. But they aren't. And that's why I posted such a real vulnerable picture. It was my story and I wanted to tell it."