What the black marks on baby change tables really are...
Publish Date

Monday, 1 October 2018, 3:36PM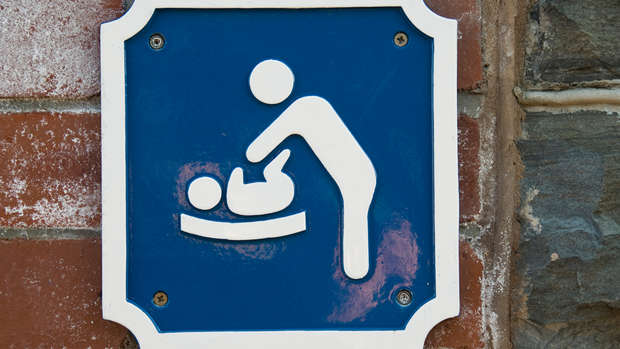 Every mother has been there.
You're out in public and a clean nappy is needed ... immediately!
So, with baby in hand, you quickly head to the nearest public bathroom to find the changing table.
While it will come as no surprise, changing tables aren't the most hygienic facilities.
You'll be horrified to learn what the seemingly harmless black scuff marks on the plastic tables really are.
And no, it's not just a bit of dirt.
Which is why a mother, from Indiana, is opening up about the terrifying truth behind the marks.
As a warning to parents everywhere, Jessica Wayman, took to Facebook to share a PSA in an attempt to make people aware of the dangers of not wiping down the tables before using them.
READ MORE: Warrior's Roger Tuivasa-Sheck shares first photo of new baby

Because those little 'dirt' marks may actually be residue from drug use.
The concerned 24-year-old wrote: "PSA: Before putting your babies anywhere near these things, ALWAYS wipe them down first."
"Even if you are in a hurry, even if you have a blanket to lay down."
Lindsey explained that the black marks on the plastic tables are caused by burnt spoons.
"See the black marks? Those are from burnt spoons. Addicts use these as tables while they shoot up."
"There could be residue from heroin/meth whatever, and other harmful bodily fluids. If someone doesn't care about themselves, I can promise you, they aren't thinking about your kids. Be cautious."
READ MORE: Flava's newest addition: Daz & Lacey welcome baby boy!
The young mum then went on to admit she is a former drug user herself, so knows the shocking origin of the marks from personal experience.
"Yes, this is VERY REAL," she continued.
"I am a recovering addict myself, which is why I made this post in the first place, to warn all the unsuspecting parents who would never think something like this when looking at a changing table."
"Along with people using them as tables while they shoot up, they are also OFTEN used by addicts to bust drugs out and crush them up upon. So again, be cautious."
Her post has since been shared more than 168,000 times, with thousands of parents thanking Jessica for the heads up.
Last year, a police department in Ohio similarly warned people to be mindful of dangerous drug use.
Posting to social media, they wrote: "These drugs can be absorbed through the skin, and easily be fatal. Gas stations and other public restrooms are very common locations for drug transactions, and for administering drugs. Please be very mindful of this for your safety and your kids."
Furthermore, a UK study found that 92 per cent of baby change tables contained traces of cocaine.