This girl gave her BF a list of "crazy" rules he had to follow with his Xmas gift and it's hilarious
Publish Date

Wednesday, 3 January 2018, 4:28PM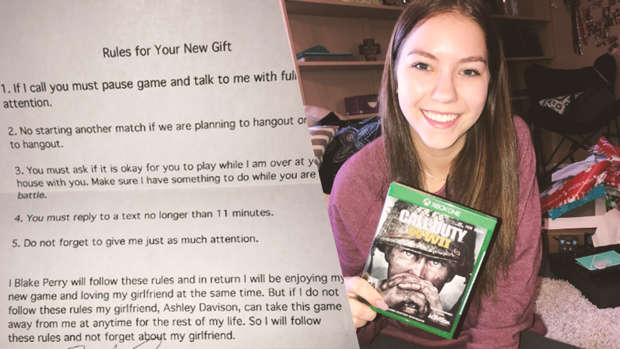 Some are calling her a forward-thinking woman, a woman who knows what she wants while others are saying that she's a tad bit crazy!
Whatever you call her she knows a good gift for her man when she sees one!
A girl on Twitter is going viral after a list of demands she gave to her BF with Xmas present hit the Internet. Ashley Davidson is no stranger to the infamous 'Boyfriend disappearance syndrome' when a new game comes out and to combat that she drafted her own little contract that he has to follow to enjoy the spoils!
According to Blake Perry, the boyfriend in question, he already knows that he's signed into a contract that he has no intentions of following through BUT we're not here for legalities of the contract, we're here for the rules! 
The rules he has to follow are as follows:
1. If I call you must pause the game and talk to me with full attention
2. No starting another match if we are planning to hang out or I ask to hang out
3. You must ask if it is okay for you to play while I am over at your house with you. Make sure I have something to do while you are in battle.
4. You must reply to a text no longer than 11 minutes
5. Do not forget to give me just as much attention.
As a result, the Internet have been jumping in and they love it!
Although, there were some haters:
Don't worry though fam, the couple have come out and said it was a joke! 
Would you follow those rules though??