The Game says he's better than Eminem and challenges him to a Verzus Battle
Publish Date

Wednesday, 9 March 2022, 1:23PM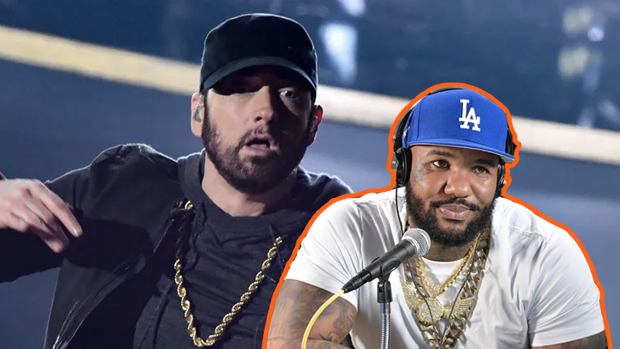 Hmmm not sure if The Game wants that smoke tbh...
Rap news seems to be popping off this week with news of The Game having a crack at Eminem after his iconic Superbowl Half Time show. 
Game was featured on the Drink Champs podcast, where the crew were talking about the Superbowl LVI show. He went on to comment on Em's involvement, and chime in with his own opinions on the rapper. 
"Eminem is Eminem," Game said. "I like Eminem, he's one of the f***ing good MCs, great MCs. He raps fast. He do all that s**t...I used to think Eminem was better than me. He not. He not. He's not. Aye, challenge it."
That then prompted interview host N.O.R.E to say that the Game wouldn't want to participate in a Verzuz battle with Em, to which he replied:
"Yes, I do. What do you mean? Yea, I do. The f**k you mean? What you trying to say? Let's just say what you trying to say. I don't want no fade with the White man?"
Game added, "Swizz [Beatz] and Timbaland know that it's bigger than Verzuz. I'm not saying I want smoke with Eminem, I'm saying I want smoke with Eminem, him, and him, whoever. Bro, 'cause n***as know."
Look, we respect The Game, but again man we aren't so sure if he wants that smoke from Eminem... What do you think?

All hail the hip-hop Queen! For when she speaks we listen! Missy Elliot, who is all over the Twittersphere this morning, sparked a raging debate online this morning. The Flava Breaky team have their say below!