The first look at Celebrity Treasure Island is here!
Publish Date

Thursday, 1 August 2019, 11:08AM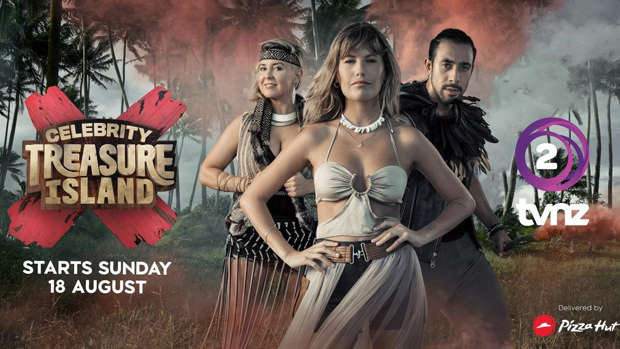 The ultimate treasure hunt is on! TVNZ has released an epic new promo for the highly anticipated reboot of Celebrity Treasure Island. The show makes its long-awaited debut on Sunday 18 August when 16 celebrity castaways arrive in Fiji, ready to battle it out for the chance to win $100,000 for their charity.
The spine-tingling and moody promo is set against Welshly Arms' Legendary soundtrack and sees the celebrity contestants navigating the jungle while carrying colourful smoke flares as they are brought together for the very first time. The action-packed, atmospheric promo signals the new look of the show after more than a decade off air.
The promo comes hot-off-the-heels on Sunday's cast announcement confirming Olympic champions Barbara Kendall and Eric Murray were the final celebrities joining the show.
This season, the celebrity competitors are our very own Athena Angelou alongside: Barbara Kendall, Eric Murray, Gary Freeman, Jodie Rimmer, Karl Burnett, Ladi6, Lana Van Hout, Lily McManus, Matty McLean, Moses Mackay, Rosanna Arkle, Sam Wallace, Shane Cameron, Shannon Ryan and Zac Guildford.
Hosted by Survivor New Zealand host and Sunday reporter, Matt Chisholm and ZM's Drive host, Bree Tomasel, Celebrity Treasure Island sees the pair team up to set challenges and test team rivalries for the marooned celebrities competing for the ultimate prize.
Classic elements from the original series return, including the dramatic team Face-Offs and Elimination Battles. Joining the fray is the Captain's Test and a number of fun and heart-warming charity challenges.
There will be plenty of twists along the way, contestants will come and go and of course, strategy will play its part.
With eliminations each week, it will take more than just brawn to stay in the game. Balance, endurance and a steady hand will all play a part until the final three celebrity castaways remain. They'll embark on a treasure hunt to end all treasure hunts. The first celebrity to find the treasure will win a whopping $100,000 for their charity and join the elite ranks of Celebrity Treasure Island winners.
Celebrity Treasure Island will be delivered to viewers by Pizza Hut, who join the show as the official broadcast sponsor. Arnott's is also on board as an in-show sponsor.
Celebrity Treasure Island starts Sunday 18 August, 7pm and continues Monday & Tuesday 7.30pm, TVNZ 2.
Be part of the conversation by using the hashtag #CTI
@celebritytreasureisland
Celebrity Treasure Island is produced by Warner Bros. International Television Production New Zealand.