The 18 stages of every squad holiday are crack up AF!
Publish Date

Friday, 16 February 2018, 1:31PM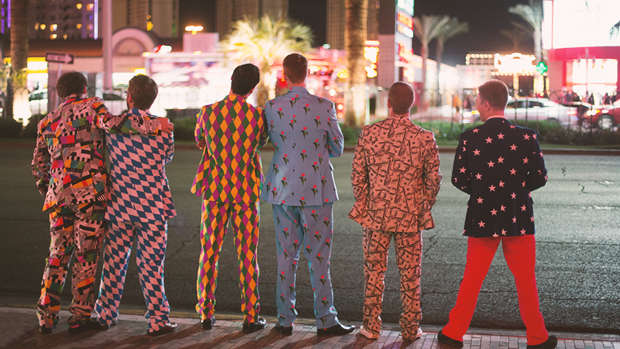 The squad always wants to be hitting the road somewhere but everyone knows, organizing it can be the hardest thing you've ever done!
The 19 stages that everyone goes through when the squad goes away! Damn these are on point.
1. Deciding yep, this is finally the year that you're all going international
Watch out world, me and my drunk friends are packing our bags, looking for budget flights and finding the cheapest bar.
2. Trying to remain calm while everyone argues about where to go in the group chat
Prepare to use all your data, the group chat is going to be blowing up for the next few months while you work out how to pack an entire night out, your wardrobe and bathroom into carry on luggage.
3. Promising your parents you won't do anything stupid
1 week before the squad leaves your convincing your mum you won't fall off the scooter, get anyone pregnant or get pregnant, loose any member of the quad and not drink too much. Yup okay, love you mum
4. Decide that a 5 am beer at the airport is a good idea
These cheap flights in the middle of the morning see you end up in the airport, giant hoodie, no makeup and a beer in your hand before you've even woken up properly. Ahhh the only way is up from here.
5. Arriving at the hotel and realising you should've read some reviews
You're expecting 5-star luxury and no better time to learn the internet is full of lies. 
6. Feeling on top of the world as you start your first big holiday night out.
The world is yours tonight, you dressed to a T, hair looking babe'n, drink in your hand and you're ready to partaaaaay! Although you're in some rank bar, drinking out of plastic cups... it feels like you'rea vegas baller RN!
7. Watch one of your oldest friends hooking up with some random average AF boy
Sometimes bad things happen to good people, after downing half the bottle of vodka, the extremely sunburnt boy wearing flower shorts and a tight white singlet suddenly looks cute.
8. Having an inevitable argument over something that doesn't make sense.
A group of hungover, hungry humans... it was always bound to happen!
9. Spending the day doing weird sh*t cause someone in the group said it'd be fun
The mum or dad of the group makes themselves known prettttty fast and whatever they say goes.
10. Checking how $50 notes you got left after buying that expensive AF outfit yesterday
Why did you even think that was going to be a good idea?
11. Finding the holiday Jam
It becomes a tribute to the squad and that shiz gets put on repeat!
12. Reaching night for and just wanting to sleep, but you're on holiday so force yourself into party mode
Night out, after a night out... all you probably want to do is Netflix and chill... ah ahhh think again, this is the first squad holiday. Get that vodka in ya!
13. Spotting the one who wandered off and got lost for 6 hours
Every squad has that one person! They wander off, cause a mild panic and then turn up a few hours later. But where were they is the real question.
14. Waking up and promising, what happens on holiday stays on holiday
When you all is said and done, it doesn't really matter what happens on holiday because everyone knows there is an unspoken pact that nothing will ever make it back home with you.
15. Finishing each night with a bomb as feed
It's common knowledge that the best part of a night out is the feed afterwards!
16. having some deep and meaningful conversations
Nothing like a bottle of vodka and a whole lot of cocktails to bring out the truth in some people. Without a doubt there'll defs be some D&M's on holiday.
17. Releasing it's time to pack up and go home
Wait... you're saying we have to go back to work now? We have to give up this life for work in a few days? Although an early night and some water doesn't sound too bad
18. Reminiscing about everything that happened
Best.time.ever