See how Dr. Dre and Snoop Dogg honoured Tupac at the Superbowl halftime show
Publish Date

Tuesday, 15 February 2022, 12:50PM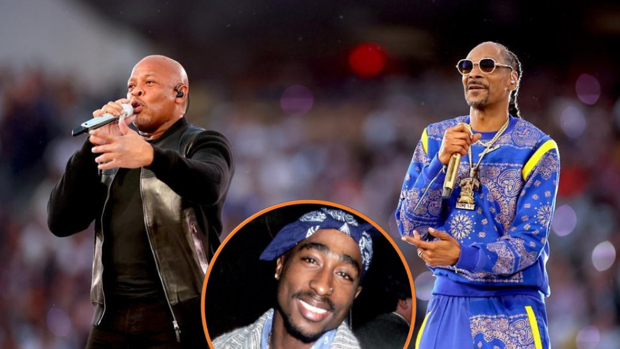 Legends on Legends
Dr. Dre and Snoop Dogg paid homage to their Death Row Record's brother, Tupac, in the Superbowl halftime show.
Following suit from their 2012 Coachella performance, where they had a Tupac hologram as part of their performance, and once again they honored the late rapper.

Coachella, 2012
This time they performed 'California Love', early in the show. One of Tupac's biggest hits from 1996, featuring Dre. Dre also briefly played a taster of 'I Ain't Mad At Cha' on the piano.
It's the first-ever Hip Hop half-time show in NFL history, so a massive night for the genre and its fans.
And they really delivered - with killer line up, a soundtrack to play at your funeral and tributes to artists, past and present. We love to see it!

Flava's brand new breakfast show of Stace, Mike & Anika talk all things Super Bowl and Valentine's day in their latest poddy ep. Listen below!