Rotorua tourist site slammed over 'offensive' Māori sign
Publish Date

Friday, 3 August 2018, 4:09PM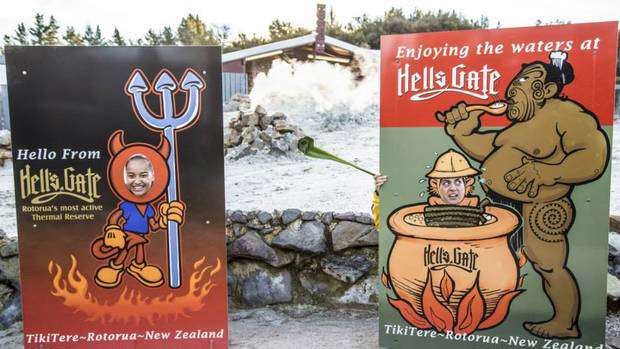 A tongue-in-cheek sign that has thrilled tourists for years at one of Rotorua's top tourist attractions has been removed after being labelled a grotesque racial stereotype.
The sign at Hells Gate geothermal park, mud bath and spa shows a tubby, tattooed Māori man eating from a cooking pot containing a person tied up in rope with the face cut out for photos.
For 20 years or more, tourists have had fun taking photos through the sign until this week when Māori feminist Moata Tamaira saw a friend's child wee head pop through in her Facebook feed.
"Everyone else was all "ha ha" but it made me feel gross. Am I alone in thinking this is just a grotesque racial stereotype played for laughs and that it's actually horribly offensive?" she asked on Twitter.
It turns out Tamaira was not the only person offended, and a complaint to Hells Gate saw the sign removed yesterday.
A second sign alongside the Māori sign, showing a devil with a three-pronged fork, is still up.
Operations manager Paul Rayner said he ordered the sign be taken down following the first ever complaint in the 18 years he has worked at geothermal spa, which has been operating since the 19th century when it was named "Hellsgate" by Irish playwright Sir George Bernard Shaw.
READ MORE:
"We are Māori owned and operated. That is the last thing we want to do ... we don't want to cause offence to anybody," said Rayner, who was away hunting today.
Tamaira's post drew support for her view that the sign is offensive.
Callum MacEwan said, "It is wrong on so many levels. I guess it was a poor attempt at humour."
And from Fey Hag: "Seems we still have a lot of growing up to do if anyone thinks this is appropriate."
"Cripes", said natural history buff Michael Dickinson.
Ngāti Rangiteaorere iwi, which owns Hells Gate, did not respond to a request for comment.
Māori have been bathing in the geothermal muds and sulphur waters of Tikitere for more than 700 years, and Europeans for more than 150 years.
Former Māori Party co-leader and Rotorua resident Te Ururoa Flavell said he had been to the park once or twice and had not seen the sign, and could not comment.
This article was first published on nzherald.co.nz and is reproduced here with permission.