Prince Harry sings Te Reo waiata and knows all the lyrics!
Publish Date

Wednesday, 31 October 2018, 1:17PM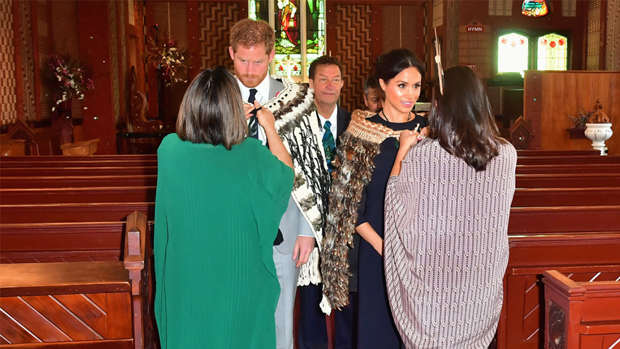 Prince Harry sung the Te Reo waiata Te Aroha and knew all of the lyrics when he was welcomed onto Te Papaiouru Marae at Ōhinemutu in Rotorua today. 
READ MORE: The precious Māori gift Meghan Markle will take with her from Aotearoa
Prince Harry and Meghan were also draped in korowai, designed especially for them by Ngāti Whakaue.
The korowai creator, Ngāti Whakaue elder, and artist Norma Sturley said that they see that Meghan represents strong kaupapa for women. "She displays aroha, manaakitanga, mana (influence), dignity and strength, all signs of great leadership.
 As for The Duchess' pregnancy, the korowai also holds representations for this exciting news.
 "The korowai is like a protector, to wrap a korowai around someone is to envelop them in strength, warmth and aroha (love). In Māori history, korowai were made initially to keep people warm. Coming from the warmer climate of Hawaiki we adapted by weaving clothes using materials such as harakeke (flax) to keep warm, she explains. 
 Mrs Sturley says the tāniko base of the korowai is inspired by the Coat of Arms for the Duke and Duchess of Sussex, using silk colours of blue, gold, white and red.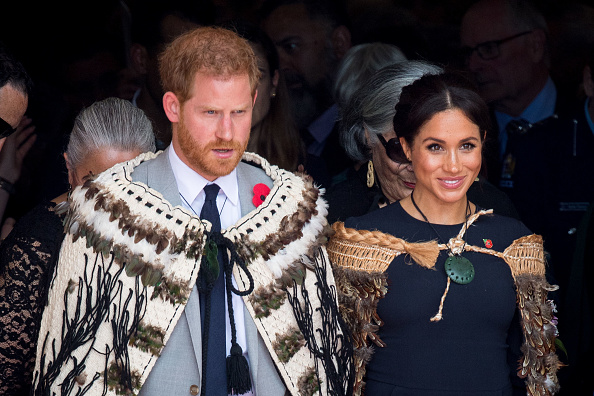 Photo / Getty Images
The pheasant feathers were plucked, washed, dried and separated into sizes and colours by Mr Sturley and then Mrs Sturley used mostly brown pheasant feathers, with some blue and green to represent the Pacific Ocean on the body of the korowai.
 The korowai will be worn by the Duchess as she is welcomed onto Te Papaiouru Marae ātea, then inside Tamatekapua Meeting House. Before lunch, the korowai will be removed, as it is not to be worn around food.
What a precious gift for Harry and Meghan!