PM Jacinda Ardern Announes first Matariki public holiday for 2022
Publish Date

Thursday, 4 February 2021, 5:33PM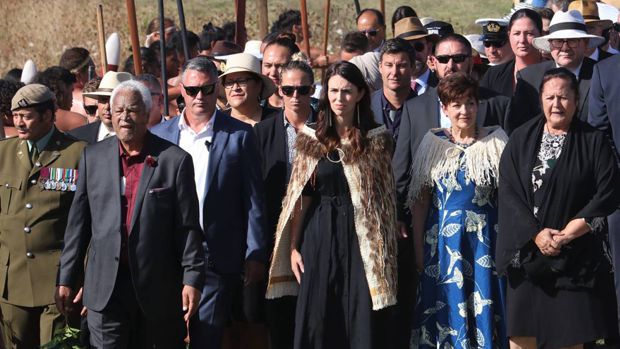 Prime Minister Jacinda Ardern has spoken at Waitangi, announcing the date of the first Matariki public holiday and promising to "walk the bridge" with Māori more.
It is Ardern's fourth visit to Waitangi as Prime Minister, and she used it to announce the first date of the new Matariki public holiday – 24 June 2022. The announcement was met with warm applause from those at the pōwhiri. 
Ardern said it was more than just a public holiday – it was an opportunity for people to learn about history, and Māori tradition. The timing of the holiday will change from year to year but is expected to always fall on a Monday or Friday.
The PM said changes such as that and teaching New Zealand history in schools were "foundational change", and would be the ones she was most proud of at the end of her time in her job. She said when she last came to Waitangi, "there were clouds above us and clouds looming". She said those clouds had included Ihūmatao, Oranga Tamariki and Ngāpuhi's settlement. 
She said that meant the Government had to work harder to honour Te Tiriti and rebuild trust.
"I know Māori are exhausted. Every day since signing the Treaty you have stepped and walked over that bridge. And we have not walked that bridge enough."
Back in 2019, Prime Minister Jacinda Ardern announced that New Zealand history will be taught in all schools and kura. The changes would cover the entire breadth of the curriculum, including NCEA.
History lessons are expected to include:
The arrival of Māori
First encounters and early colonial history
Te Tiriti o Waitangi / Treaty of Waitangi and its history
Colonisation of, and immigration to, New Zealand, including the New Zealand Wars.
Evolving national identity in the late 19th and early 20th centuries
New Zealand's role in the Pacific
New Zealand in the late 20th century and evolution of a national identity with cultural plurality
"This Government is committed to a better New Zealand that we can all be proud of and which recognises the value of every New Zealander," Ardern said.
"The curriculum changes we are making will reset a national framework so all learners and ākonga are aware of key aspects of New Zealand history and how they have influenced and shaped the nation."
Officials have been devising the draft curriculum - published online today - since 2019 when the government announced Aotearoa history would be taught in all schools and kura by 2022. The subject will be made compulsory up to Year 10 and be available as an option from Year 11.
Education Minister Chris Hipkins urged New Zealanders to check out the content and provide feedback before it was finalised.
Article first published in the NZ Herald and re-published here with permission.