NZ Breakers star Shea Ili gets massive NBA opportunity
Publish Date

Sunday, 10 June 2018, 3:42PM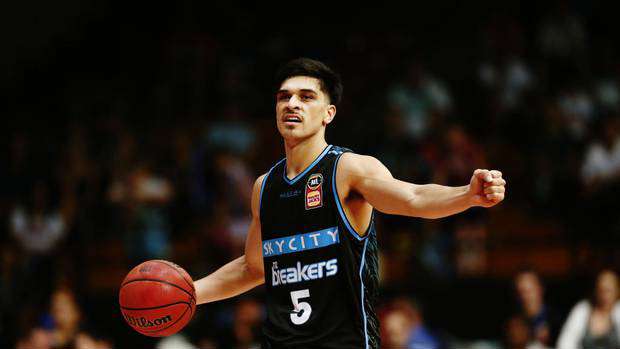 Shea Ili's star keeps rising in the basketball world.
The 25-year-old New Zealand Breakers point guard has been invited to a NBA mini camp with the Dallas Mavericks, following a season where he continued his substantial improvements.
The 2017/2018 campaign saw Ili named the Australian NBL's Most Improved Player, and make the Asia Cup's All-Star Five with the Tall Blacks. He is currently on track to be the New Zealand NBL MVP, and the rash of accolades has now led to his first crack at the NBA.
Ili says he was surprised by the timing of the opportunity.
"I wasn't expecting this. I was thinking I'd try go over to Europe first, but this has come up first and I've just got to do my best - go over there and show them what I have. Hopefully they pick me."
Ili leaves next Sunday to join up with the Mavericks for the two-day free agent mini camp on June 18-19 (US time), where he will try and impress for future opportunities. Ili follows in the path of Breakers backcourt partner Corey Webster, who joined the Mavericks for a mini camp last year, and was good enough to get invited to NBA Summer League.
Ili has the same ambition.
"My goal is to try and get to the Summer League week, hopefully I make that team. It would be great to get there for a week in Vegas and be around the new draft class and be around some NBA coaches as well, it would be pretty cool.
"It will be good to go and see where I'm at, to play against them and see how they play, the pace of the game and the athleticism that they have. It will be great to just put myself out there and see how I go."
Ili recently signed a two-year deal with the Breakers and is set to be their starting point guard this season, but the club has always been accomodating to its players who want to chase their NBA dream, and Ili says he has been freely welcomed to spend part of his offseason in the confines of the NBA.
"Kevin [Braswell]'s a guy who has always wanted me to play overseas and he's always pushed me to do that. It's a pretty supportive group around me and that gives me confidence to go over there and do my best - if I need an out clause then they'll give me that and it'll be awesome if I do get one."
Much like Webster last season, Ili is currently starring in the New Zealand NBL with the Wellington Saints, and is the hot favourite to win the MVP.
Ili is averaging 26.6 points, 4.7 rebounds, 7 assists and 1.8 steals per game, and his contributions have been pivotal to keep an otherwise unconvincing Saints roster with a strong 6-1 record.
He will have to briefly leave the Saints to their own devices as he chases the NBA goal, but they, like everyone else, will be fully supportive as Ili continues his rapid rise.
This article was first published on nzherald.co.nz and is reproduced here with permission.