New York City is embracing Te Wiki o Te Reo Māori!
Publish Date

Wednesday, 12 September 2018, 5:46PM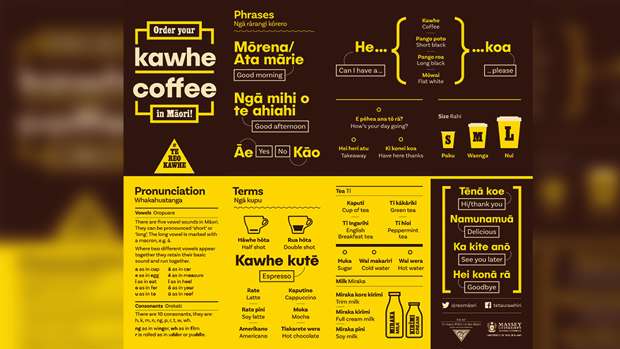 Te Wiki o Te Reo Māori has made it all the way to Te Āporo Nui, Niu Iaka - New York!
The Manhattan cafe, Happy Bones Café is Kiwi owned and is embracing Māori Language Week by offering half-price coffee to all customers who order in Aotearoa's native tongue.
The owner of the cafe Craig Nevill-Manning heard cafes in New Zealand were taking part in the initiative and thought there was no reason why it couldn't be brought to New York.
"I think it's a great idea because the Māori language is often something we reserve for special occasions - at least in my circles," Mr Nevill-Manning said.
Check out this cool poster to help you with some Māori Kupu - vocab!
Read More:
The presence of Māori signs in the cafe piqued the interest of local New Yorkers, and after a little encouragement, some tried their hand at ordering and are rewarded with a half price discount.
The cafe owner said that "Pilot Coffee" in Toronto were also taking part in the initiative by recognising Māori Language Week.
We think this is such mīharo, awesome initiative and should definitely be rolled out more across Aotearoa! 
Plus - Māori lessons in NYC - HOW COOL!