Kanye West's new Yeezy range savagely mocked online
Publish Date

Monday, 23 April 2018, 1:55PM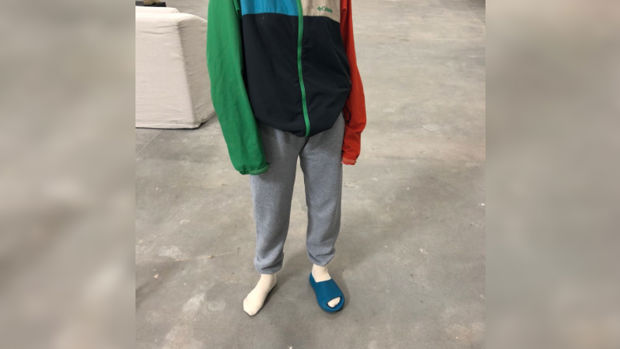 He may well consider himself as a maverick fashion genius, but Kanye West has ended up on the receiving end of merciless mocking after sharing a glimpse of his clothing line's latest release.
The rapper, whose brand has gained a substantial fan base after its initial debut in 2011 was savaged by critics, came under fire on Twitter for his unusual new sliders.
According to the Daily Mail, after posting a snap of the blue sandals captioned "rough draft", unimpressed Twitter users shared tongue-in-cheek comparisons of what they thought the shoes resembled.
"Is this a joke?" one person asked, while another added: "They look like cupcake liners".
One outraged follower added: "This is really county jail clothes and I am astounded that folks will purchase" (sic).
Another claimed fans would blindly buy them anyway, writing: "Y'all gunna pay 600$ for the Yeezy slides regardless of how bad they look anyways" (sic).
Replying to the rapper's tweet, followers quickly shared snaps of cupcake liners, jelly sweets, rubber door stops and even blue sponges.
Another likened them to "hospital shoes", while one honest tweeter told him: "Don't ask how I know but these are the shoes they give you in jail here in Austin, Texas."
A kinder fan wrote: "I love you Kanye but I can get this look at Walmart".
Kanye returned to Twitter at the beginning of April, reappearing on the platform for the first time in nearly a year after he deactivated it last May.
The Grammy Award-winning artist was spotted gradually removing tweets from the site, only one tweet remained on his central timeline: a tweet from CEO Jack Dorsey Friday reading, "Welcome back @kanyewest!".
And he has already been using the platform to send tongues wagging, endorsing YouTube personality Candace Owen over the weekend, a woman who is known for her controversial views on racism.
Daily Mail