Jonah Lomu's two sons hope his 'Legend Status' in the new Weet-Bix Stat Attack cards will inspire Kiwis to live like their dad
Publish Date

Monday, 12 July 2021, 1:37PM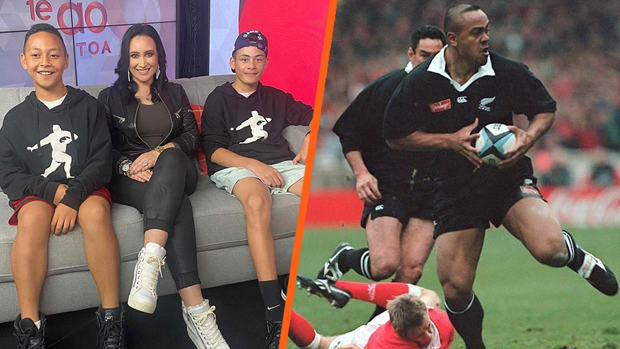 Weet-Bix Stat Attack is back!
Many Kiwi kids grew up with Weet-Bix Stat attack collectable cards, and now Sanitarium have brought them back for the 2021 All Blacks season. 
In doing so, they have also announced that Jonah Lomu's card will include 'Legend Status' which his family hope will set an example for Kiwi kids to live like Jonah and do their best, whatever the circumstances.
Brayley (12) and Dhyreille (10) Lomu say that despite his poor health, the rugby hero pushed himself to succeed on and off the field and it was one of the life lessons he taught his sons before his passing.
Brayley and Dhyreille, both keen tennis players, try to remember their dad's messages of humility, resilience and motivation on a daily basis. 
"I really enjoy tennis and although I like rugby too, I think I should play a different sport to my father because he will always be the best in my eyes. But when I'm on the court I often think of him and try my best, because he always wanted us to put in effort no matter what we were doing." says Brayley. 
The new Stat Attack features 31 current players, eight legends and one head coach. 
 Current players like TJ Perenara and Anton Lienert-Brown have endorsed the cards, highlighting how they collected them as youngsters and were always on the lookout for their favourite All Blacks. 
"To go from being a kid wanting Weet-Bix, to finding your hero card in there and now to being on one of those Stat Attack cards is a real privilege.
You remember being young and never dreaming you would one day be on one of the cards yourself!" says Lienert-Brown.
Keep your eyes peeled for selected versions of Sanitarium Weet-Bix boxes which include the new Stat Attack cards.