Auckland family are distraught after their 10 month old puppy's throat was slit
Publish Date

Friday, 9 February 2018, 2:55PM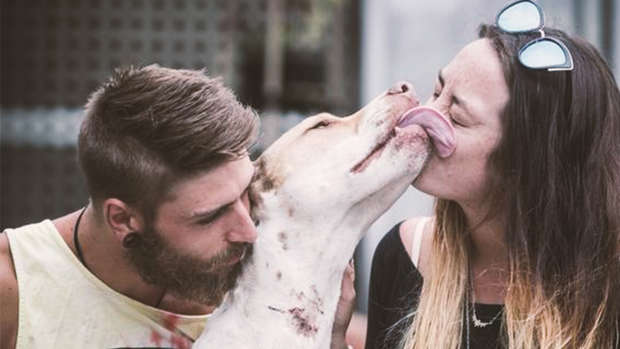 An Auckland couple are distraught after their 10-month old puppy's throat was slashed.
Jack Vanbiljon watched his staffy-kelpie cross named Turbo die in a pool of blood on Monday at Dairy Flat, north of Auckland.
He and girlfriend Casey Halpin's other dog, Nova, a 3-year-old bull terrier, also had its throat slashed but survived.
"I lost my best friend," Vanbiljon said
Vanbiljon, 22, a landscaper, and Halpin, also 22, had been subletting a room on Dairy Flat Highway when, he says, their flatmate asked them to leave without warning.
Me, my girlfriend and the dogs were at home when [my flatmate] and two friends burst into my room, saying, 'You have 10 minutes to get out of the house'.
We had no warning, nothing. He just burst into my room and began kicking my stuff around."
The couple started to take loads of belongings to the car, when Vanbiljon heard Halpin scream.
"She went out and I heard her scream, so I just dropped everything… ran outside."
Vanbiljon claims he saw the flatmate standing facing her car with a knife behind his back, slick with blood.
Halpin ran towards the car. Turbo was still alive and jumping from the front seat to the back seat.
Vanbiljon joined her at the car and they realised Turbo was bleeding.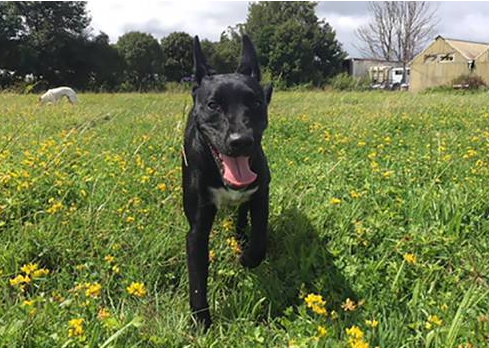 "He'd basically bled out in my car," Halpin said.
Halpin said she opened the door and Turbo jumped out, towards Vanbiljon. But the puppy then fell into a puddle of blood and stopped moving.
Vanbiljon said he had been unable to get the image out of his head of Turbo in the car with his neck open, looking at him and wagging his tail as he took his last breaths.
Halpin and Vanbiljon got in the car and went with their injured dog Nova to the nearest police station.
Covered in blood, Halpin said the pair went into the station looking like they had been at their own crime scene.
Her parents met them and took Nova straight to the vet, where the dog needed eight staples to seal her neck wound.
"The vet said Nova's cut was only 8mm from the jugular," Vanbiljon said.
A police spokeswoman said the SPCA was investigating.
Vanbiljon had to leave a previous flat with short notice and he and Halpin found their new place on a Facebook page, and were keen to move in mainly because the property allowed dogs.
They had been there about six months.
Vanbiljon said the pair were waiting on the results of a post-mortem examination the police were doing.
But nothing would change the fact Turbo, Vanbiljon's constant companion, was gone.
"Waking up on the morning now, he's not there jumping up on the side of my bed with his two paws and his big smile looking at me like 'yo Dad, let's wake up'."
"It's just hard getting up every morning not having him there anymore."
The pair are now staying with Halpin's parents and were cautious about entering into another flatting situation.
Police have charged a 39-year-old Dairy Flat man with possessing an offensive weapon, and he will appear in North Shore District Court today.
- New Zealand Herald