All you need to know for Friday Jams LIVE!
Publish Date

Friday, 16 November 2018, 9:13AM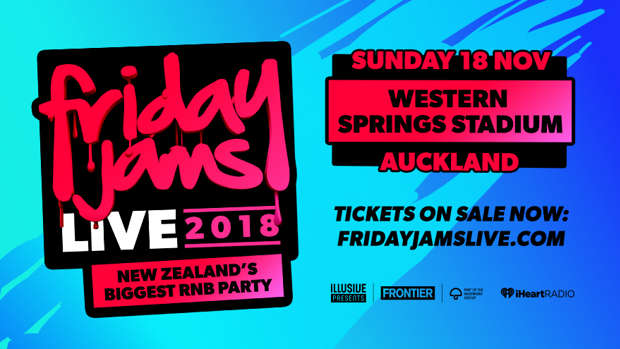 Are ready for the PARTY OF THE YEAR?
Friday Jams Live is going down this Sunday and will provide one monster show only at Western Springs Stadium!
Do make sure you have the best night of ya liiiife we've got all the dets for the night here!
GATES
Open at 3pm, first act is on around 4pm (official set times at the bottom of this page)
You need to use whatever gate your ticket is. I.e Silver etc - there will be signs directing you on the day
TRANSPORT
Travel included with your ticket on City Centre special event buses will run from 4:30pm to 7:30pm, and then for 1-hour post event or until the crowd is clear.
You'll have to pay standard bus charges for earlier buses. 
You can also train to the event for free by showing your ticket.
Remember to keep your event ticket for the ride home.
We recommend getting off the train at Kingsland/Mt Albert and walking for 15 mins from there to the stadium. 
There will be Uber pick up/drop off points
Avoid bringing a car if possible as there will be major road closures.
Auckland Transport have more info here.
PARKING 
Onsite parking is available for patrons who hold a valid mobility permit. If you require mobility parking, please email [email protected] with your permit number, event name and date to register. 
Park in the outer suburbs and walk if you are bringing your car as there is no on-site parking. 
TICKETS
The safest option is to print out your tickets prior for scanning. 

If not sold out prior, gate sales will be available from the box office on the outer field from 9am on event day.
WHAT CAN I TAKE IN?
Nothing over the size of A3 (400mm x 300mm x 300mm) can be taken into the stadium, no bags bigger than that.
No umbrellas.
You are welcome to bring in small quantities of non commercially prepared food such as sandwiches, fruit or baking.

You may also bring a sealed plastic bottle of water (up to 750ml) however please note that for most concerts, the lid will be removed and discarded on entry.
Full list of what you can and can't bring in is here under 'Conditions of Entry'.
FOOD AND DRINK 
There will be plenty of food vendors available in the venue
There will be free tap water
There will be licensed bars, you must bring ID to be able to purchase. 
AFTER PARTY
The official After Party is at The Studio, K Road. 
Doors open from 10pm. 
More details here
SET TIMES