Publish Date

Tuesday, 27 September 2016, 9:18AM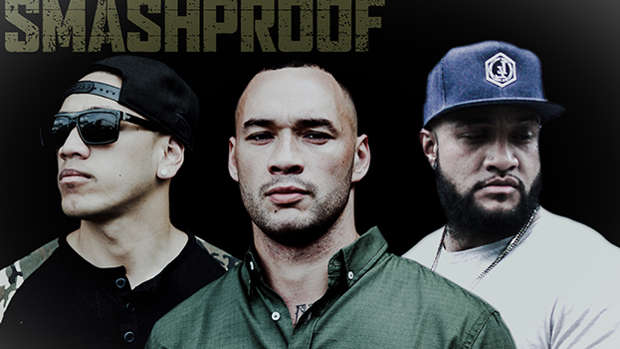 Experience 4 great artists perform at your local, as Smashproof and PT take on a nation wide tour. Enjoy the hits live and immerse yourself in the energy from these artists that have graced the airwaves for more than a decade.
Listen to the Wake Up Call to win your free tickets or register below to win free entry!
Tour Dates:
Sep 30 – The Block, Hamilton
Oct 1 – Totara Street, Tauranga
Oct 7 – Cloverlea Tavern, Palmerston North
Oct 8 – The Mayfair, New Plymouth
Oct 14 – Kamo Hotel, Whangarei
Oct 21 – Bushman's Hut, Kaitaia
Oct 22 – Kings Road, Paihia
Nov 11 – 1985, Auckland
Nov 12 – Trees Tavern, Tokoroa
http://www.dashtickets.co.nz/tour/873
www.youtube.com/watch?v=3zqP04Iq3nM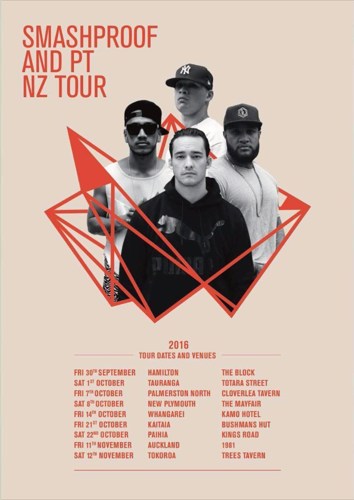 NZ Hip Hop group Smashproof return with their brand new single 'Never Let You Down'. The song is a classic Smashproof anthem that showcases their respective talents and styles, touching on topics that are real and relevant. TY, Sid Diamond and Deach have been hard at work on their solo careers over the last few years, but have reunited for this song and have recently announced a tour of the North Island. The song features their long-time collaborator PT & the beat is from upcoming Producer Cody Wave.