Video goes viral of driver hitting pedestrians and crashing at Manurewa petrol station
Publish Date

Tuesday, 12 February 2019, 10:35AM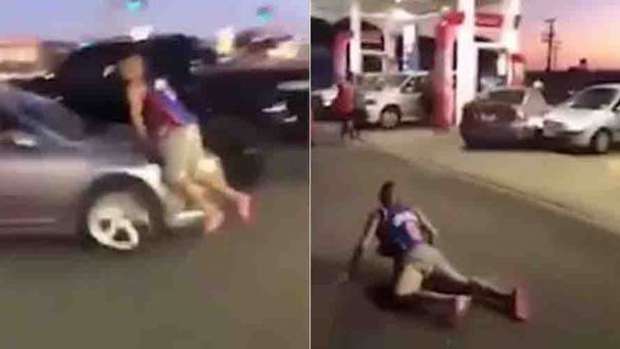 A video has gone viral on the internet of a driver hitting a pedestrian at a Manurewa petrol station and then crashing. 
Screams and screeching tyres can be heard as the driver then crashes into a parked car fueling up for petrol before attempting to flee the scene.
Onlookers can be seen chasing the driver, who then crashes his car and is unable to drive it.
The driver can be seen with visible injuries and blood on his face following the incident.
The video has been posted to social media and has had over 61,000 views since being posted late last night. 
After crashing his car and being surrounded by onlookers, one man is heard shouting "you ain't moving anywhere bro".
Another yells at the man, saying "you f**ked everything up", while the man who was knocked over by the driver points to him and says: "F*** this piece of s***, he ran me over the mother f***er."
A Mobil employee confirmed to the Herald the incident happened on Monday night.
Police were called to the scene where the driver was seen being taken away.