Tip Top is bringing back Goody Goody Gum Drops on a stick
Publish Date

Wednesday, 13 November 2019, 7:51PM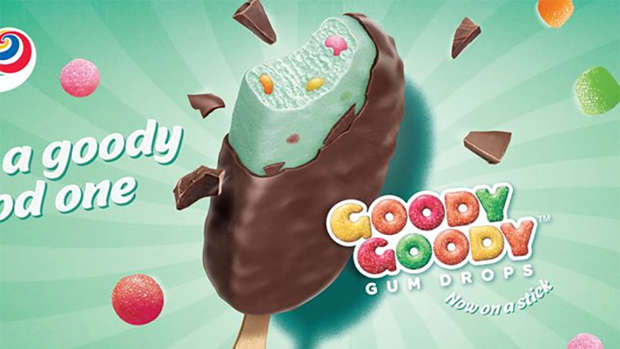 For many New Zealanders Tip Top's Goody Goody Gum Drops ice cream flavour is a favourite summer treat.
Well, now the award-winning Kiwi classic is being wrapped up in a delicious bit of nostalgia.
The ice cream company announced that after more than a decade of being off the shelves, they are bringing their iconic chocolate-dipped Goody Goody Gum Drops 'Big Bar' on a stick.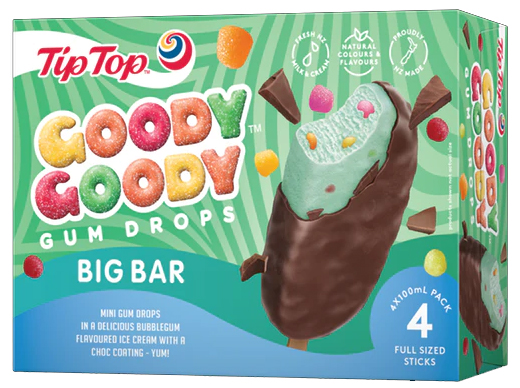 The original version was first released in 2008 as a limited edition, but this time the ice cream treat will be bigger and better, at 100mls compared to the original 78mls.
However, while this version sticks to the same recipe as the two-litre ice cream tub, according to a Tip Tip spokesperson, the delicious gummy lollies inside will be a bite-size smaller so they can fit perfectly inside stick ice cream, which will be coated in a mixture of both milk chocolate and dark chocolate.
The bubble-gum flavoured 'Big Bar' will also be here to stay, as long as people want it, a spokesperson for Tip Top told 1 News.
"We will have to see how it goes, and if it's really popular it will stick around," they said.
The yummy snack is now being released in supermarkets, petrol stations and dairies around the country. Yay!