The hilarious social media reactions after pies spill onto the road in South Auckland
Publish Date

Tuesday, 26 February 2019, 7:53PM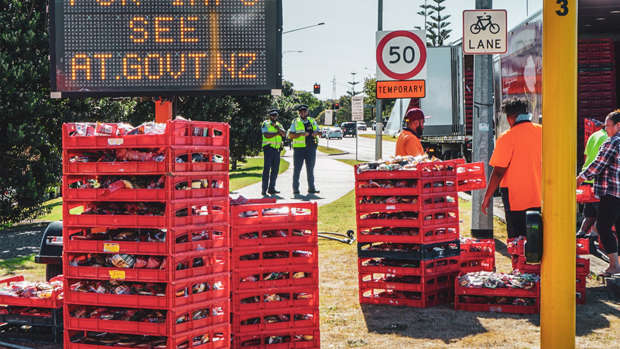 The reactions on social media have been hilarious after a truck spilt 4000 pies onto an intersection in Manukau. 
The spill sent the pastries, believed to be trays of Big Ben pies, all over the street near the intersection of Manukau Station Rd and Davies Ave.
A post on a Facebook community group in Manurewa said: "If you can get to Manukau Bus Station asap free pies. Truck's door opened as he was turning the corner. Driver giving them away."
A later comment, however, said the pies were being loaded back into the crates, while workers in hi-visibility vests guarded them on the side of the road.
The local Counties Manukau Police were quick to get on the bandwagon after attending the scene, explaining that their team were on the scene guarding the safety of all pies in the 'Great Pie Spillage of Manukau'. 
The local police later posted a video of the scene and asked fans to comment their best captions.
Naturally, the "always blow on the pie" story resurfaced with the national New Zealand Police Facebook page commenting: "Always blow on the pie. #safercommunitiestogether". 
Other great captions included: "It's a pie-lup" and pie company Big Ben said in a statement that it was a sad day for them: "We've lost 4000 of our most delicious pies as they occupied Manukau Station Rd this morning.".
Could anything be MORE kiwi?!