Swizz Beatz Speaks Out After Calling Drake A 'P***y'
Publish Date

Tuesday, 23 June 2020, 6:35PM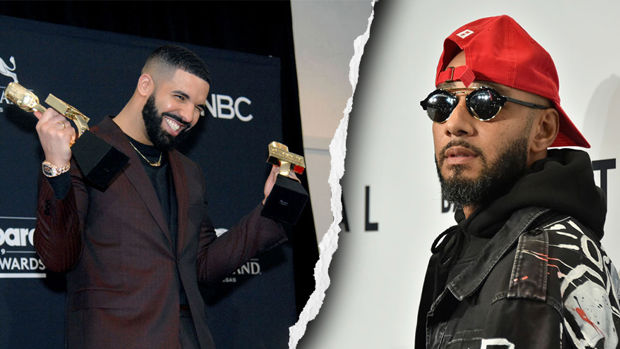 Who knew Swizz Beatz and Drake had beef?
Over the weekend, the famed producer let the cat out the bag during a conversation with Busta Rhymes on Instagram Live. While discussing Busta's recently leaked collab with the Canadian rapper, Swizz, out-of-the-blue, called Drake a "pu**y boy."
"Drake wanted to get some production from [J Dilla] and he knew that I had it," Busta said of his and Drake's leaked collab. "We was talking about him working with Dilla with some of the stuff I had in the stash. You know, I ain't gon' front. Drake is definitely one of the prominent MCs that I'm a fan of. And, interestingly, when he did the record, it wasn't even something that we planned to do together. It was something that he did and it didn't happen where it was supposed to happen. And when I saw that it was laying dormant, I thought that it was only right to try to complete the record."
Busta then revealed why the record was never released, saying he and Drizzy never able to "work it out so that we could put it out." Swizz followed-up by asking why, to which Busta replied that he "never knew what the reason was" and that they "didn't really get a chance to discuss it." That's when Swizz gave his opinion on the matter, saying, "It's a big pu**y boy."
Seemingly wanting to stay out of the drama, Busta later added, "I don't want to get it misconstrued. [Drake] didn't come to me to make a record with me. He wanted to do [J Dilla's] beat. Dilla beats. That's what it was about. That's all I'm saying."
While Swizz went on to call Drake a "good kid," saying, "He's not a bad kid, he's a good kid. He started from different things. We made hit records together, it's all love. I don't want no problems with anything," he also continued to speak negatively about him. At one point, Swizz said, "Because at the end of the day, n***as is pu**y for real. What's up? Pop off. Let's go." He also added, "But it's cool. That's a little kid. That's a guy. That's a little guy. It's no personal things. If it was personal we'd shoot your plane out the sky."
It didn't take long for Swizz's comments to go viral. Within hours of his IG Live, the producer was back on Instagram issuing an apology to Drake. "I was in the wrong space. I was in the wrong energy," Swizz admitted. "I hate that my kids and other people got to see me be on that side. I was a little nice, I was a little excited. I definitely spoke on some things that I definitely shouldn't have spoke on."
"As a G, I'm man enough to say that I did that on platform and I wasn't supposed to do that like that 'cause I wouldn't respect somebody else if they did that like that," he continued.
While Drake has yet to address Swizz's comments, his right-hand man, OVO Chubbs, spoke out via Instagram Story. "We don't need no apology," he wrote. "Its clear you don't like us so act that same way when you see us. Pu**y."
-iHeartRadio