NZ White Sox are 'majorly disrespected' by Chinese Taipei softball team after haka
Publish Date

Monday, 6 August 2018, 3:52PM
After the NZ White Sox team performed their haka before their match, having dirt thrown at them was the last thing that they expected.
In response to this, the girls ramped it up and performed another, intimidating haka.
But it seems that the act that was taken as disrespect may have not in fact been disrespectful.  
According to comments on the video, the act of throwing salt (not dirt) is an ancient Chinese tradition to ward off bad spirits.
A commenter explained it here: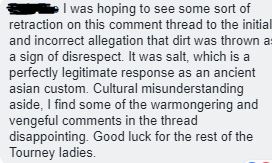 READ MORE: 
Do you find this custom disrespectful?