Kiwi legends just made a drive-through Hangi in the middle of their street!
Publish Date

Thursday, 4 January 2018, 11:51AM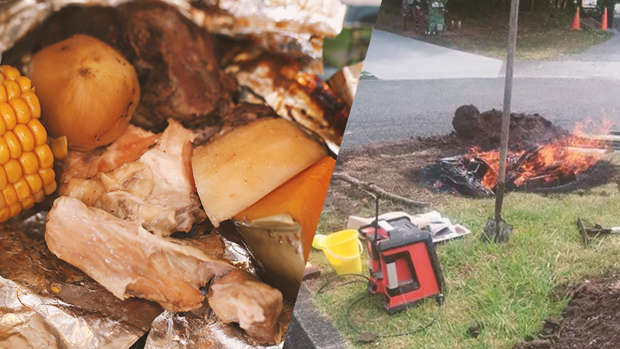 When it comes to your classic Māori and Kiwi New Years and Christmas celebrations, here's what's almost guaranteed to be involved...a Hangi! But what do you do when you head outside and notice that the soil in your backyard is just simply too hard dig up, you use your head!
That's what one group of New Year's revellers did to go into 2018 when the soil in their own backyard was a too hard to get their celebrating done right. The group decided to take their holiday cuisine to a traffic island in the middle of their road.
Kiwis loved the idea, posting their support on the Now that's Kiwi az bro Facebook page:
"First ever drive through, over, around hangi stop. Brother has a forward-thinking brilliance. Gotta get me some of that hangi drive through woop woop."
"Wow that's a bit out the gate wouldn't yar think..you'd think they had a rahui [prohibition] on that area haha waytah go whanau."
Now we're just wondering where our invite was!