Jimmy Carr is throwing some serious shade at New Zealand
Publish Date

Tuesday, 23 January 2018, 10:15AM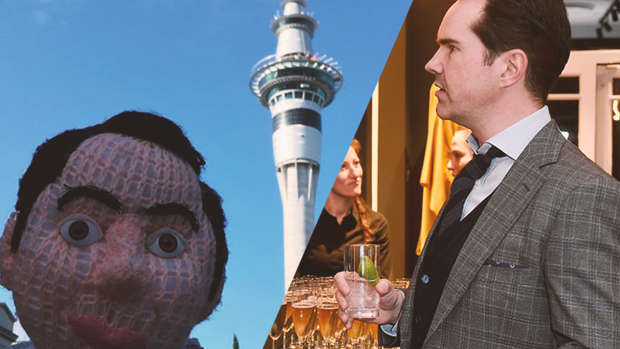 Aaaaaaand.. another one! It seems New Zealand has been coping a lot of slack in the last week from celebs all over the globe! 
Twitter users are slamming British comedian Jimmy Carr after suggesting poor Dunedin needs an earthquake to transform it into a beautiful place.
Jimmy Carr is known for his dark, often inappropriate humor, but social media is not happy with Carr. I think he's gone too far this time!
The tweet has a puppet version of Carr in front of four sights of Dunedin.... Carr's caption read, "Went to Napier, destroyed by an earthquake - rebuilt - beautiful town. Went to Christchurch, destroyed by an earthquake - rebuilt - beautiful town. I'm now in Dunedin. I'll tell you what this town needs..."
Give us a break would you!
The response to the tweet was split but most people were very unimpressed with Carr, some people blasting Carr with responses like "not okay", "omg wtf" and "Earthquakes are hilarious aren't they...". 
One person even said:"Dude, waaaay too soon. Some of us survived those quakes. Too many of us didn't. Don't joke about tragedies, especially ones you haven't experienced,"... Fair point here!
Carr was traveling New Zealand as part of his world tour, hitting stages in Auckland, Hamilton and New Plymouth amongst others. The Dunedin 'joke' wasn't the first Earthquake joke Carr had made he joked about Napier and Christchurch being part of the "earthquake tour".
One would think that Carr doesn't plan on returning to the beautiful Aotearoa anytime soon, cause I think it's safe to say most people will be happy if he keeps his insensitive jokes back in the UK!