Jason Momoa turns out to support NZ Rugby!
Publish Date

Monday, 11 March 2019, 3:48PM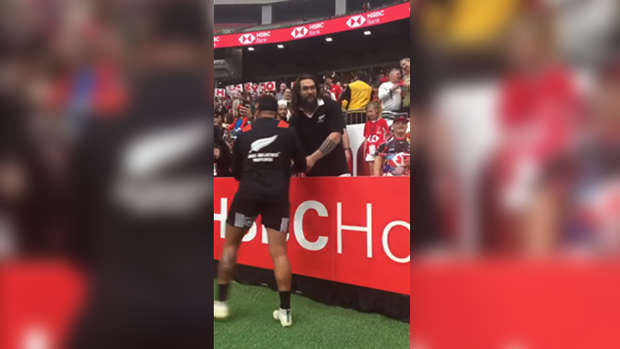 Jason Momoa has once again shown his love for Aotearoa when he turned out to support the New Zealand Rugby Sevens team.
The Kiwi Sevens team were competing at the Canada Sevens tournament in Vancouver when Jason Momoa was snapped shaking hands with the team members.
The movie star was spotted wearing an All Blacks jersey, complete with a Silver Fern. 
The video was posted to the All Blacks Facebook page earlier today and has already gone viral with fans loving Jason's love for Aotearoa. The video has already had almost 150,000 views, and fans have been quick to recommend that he becomes a Kiwi already with comments including: "He wants to be a kiwi, just make him a citizen already" and "Let's just adopt him!". 
READ MORE: Jason Momoa performs MEAN Haka at Aquaman premiere!
It's not the first time that Jason has shown is love for our country, he has performed a Haka on the red carpet for the movie, Aquaman and he was even asked by a US reporter to do a 'Haka move'. 
What do you think Jacinda?! Should we adopt him!?!