It's International Donut day! Here's where you can get the best in Aotearoa!
Publish Date

Friday, 5 June 2020, 6:06PM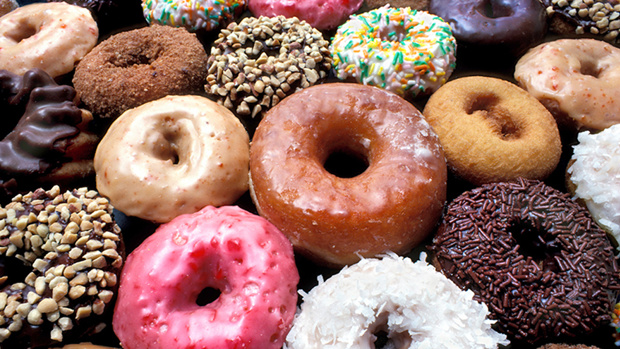 Donuts have come a long way from those little sugar nuggets that were rolled off greasy conveyor belts, packed hot into paper bags and sold from carts outside Warehouses up and down the country.
Skip forward a few years and these rings of fried batter are being stuffed and wrapped and dunked and sprinkled with everything from petals and pretzels to bacon and edible glitter.
Given today is International Donut Day, the NZ Herald have compiled their top 10 from around the country.
PLUS! Krispy Kreme New Zealand is turning International Donut Day into  National Doughnut MONTH and will be giving away FREE doughnuts every Friday in June with the purchase of any dozen.
We know that things are a little different this year with everything going on in the world, however, Krispy Kreme is keen to spread some joy through the small - but sweet - act of gifting doughnuts over the entire month. 
Available at participating Krispy Kreme New Zealand stores only - in-store, online or via UberEats. 
1. Cream and raspberry coulis, Little & Friday, Auckland


Little and Friday have recently made the call to only produce their original cream and raspberry coulis flavour to keep them to a premium standard. 
While this writer believes they were the sweet, sweet catalyst for her slippery slope to rapid weight gain, Little & Friday's raspberry coulis and cream-filled (read: stuffed to bursting) balls of aerated glory will convert even the most savoury of palettes.
How much:$6
Where to get 'em: Little & Friday stores: 11 McColl St, Newmarket or 43 Eversleigh Rd, Belmont.
2. Mamas Donuts, Hamilton


Passionfruit Dream and Maple Walnut are two "flavours of the month". Photo / Mamas Donuts
Handmade by two local "mamas" and their families, folks have been known to do donut runs from Auckland to Hamilton just to get their hands on these sweet treats. With classics such as original glazed and choc top as well as flavours of the month, there's something for everyone at Mamas Donuts.
How much: 12 originals, $25
Where to get 'em: 67 Duke Street, Hamilton
*Find a full list of locations here
3. Little Dough Co, Wellington
Little Dough Co create three flavours weekly - available Thursday to Sunday - making them the perfect naughty treat to end a busy working week. The team distribute their sugary goodness to three locations across the Wellington region so get salivating with this week's donut flavours: Fix & Fogg Honey Peanut Butter filled, Blueberry glazed and a Spiced Fennel sugared donut.
How much: $30 + $5 delivery gets you a box of six
Where to get 'em: Various locations around Wellington.
4. The Donut Boutique, Christchurch


The Jelly Jymboree - a favourite from The Donut Boutique. Photo / The Donut Boutique
For a fantastic selection of ringed and stuffed donuts, you can't go past The Donut Boutique. In particular. Try the Jelly Jamboree and the Maple Glaze, or grab a selection and head to Cathedral Square to enjoy with a coffee from Escarto Espresso.
How much: $2.80 - $5.20
Where to get 'em: 569 Barbadoes Street, Christchurch
5. Tahitian Vanilla Custard, Foxtrot Parlour, Aucklan
My go-to would have to be the Tahitian vanilla custard donut from Foxtrot Parlor in Auckland's Ponsonby Central. The best thing about this donut is the fun process that comes with eating it: you're presented with a ball of sugar-coated dough and a syringe and away you go with filling your own donut. Watch your filling technique for the perfect ratio of custard to dough, or overfill and your donut will be bursting with custard - it's a win-win. If vanilla custard isn't your jam you can inject salted caramel, berry coulis or Valrhona chocolate.
How much: $6.50
Where to get 'em: Ponsonby Central, 7 Richmond Road, Ponsonby.
6. Bavarian Kreme, Dunkin' Donuts, nationwide
An oldie but a goodie, the Bavarian Kreme donut never fails to impress. Covered in powdered sugar and filled with delicious custard crème, this donut keeps it simple, just the way it should be.
Team it with a takeaway bag of Dunkin' Donuts donut holes for more nom nom nom's all day long.
How much: $2.60
Where to get 'em: Stores nationwide.
7. Mini Chocolate Espresso Donut, Scratch Bakery, Auckland
At just $2.50, the mini chocolate espresso donut may be the cheapest and most delicious way to get your sugar and caffeine fix.
Rolled in cinnamon sugar and filled with gooey espresso chocolate, this dreamy concoction is best paired with a coffee and enjoyed as a mid-morning pick me up.
How much: $2.50
Where to get 'em: Scratch Bakery, 5 Graham Street, Auckland.
8. Original Glazed, Krispy Kreme, Auckland
While all the different flavours and decorations of donuts can be very exciting, there's still nothing better than the humble glaze. Krispy Kreme does this best and what's better is you can get them any time of the day at their store's 24-hour drive through! What a donut dream.
How much: $2.50
Where to get 'em: 3 Ronwood Ave, Manukau, Auckland
9. Ahwi's Strawberry Sprinkle Donut, Doornuts, Auckland


Fancy a donut like this delivered right to your door? Photo / Doornuts, Facebook
This is what I like to call "The Homer Simpson Donut". A delicious classic, it looks like your typical, perfect ring donut with pink icing and sprinkles. Insert Homer Simpson *drool* here. Made of a classic chewy dough and strawberry-flavoured topping, despite its bright colour, it doesn't overdo it on the sweetness scale. What makes Doornuts a stand-out though is the free delivery, right to your door.
How much: $4
Where to get 'em: 321 Karangahape Road, Auckland or order online.
10. PB & Chocolate donuts, Chopped, Christchurch


Doughnuts with chocolate and homemade peanut butter from Chopped in Christchurch. Photo / Instagram, @christchurch_food
We haven't tried these ones ourselves, but a delicious recommendation for the doughnuts from Christchurch's newly opened eatery, Chopped, sounds too good not to mention. We're loving the sound of the PB and Chocolate flavoured donut, which comes with chocolate sauce and a peanut butter made completely in store by the restaurant's staff. Plus, the donut is vegetarian. So it's healthy, right?
How much: $10
Where to get 'em: 98 Victoria Street, Christchurch.
This article was first published on NZ Herald and is republished here with permission. Additional reporting by The Hits.