'I have a small penis, I'm proud of it': Man writes micropenis manual
Publish Date

Friday, 1 June 2018, 2:29PM
Fans of UK breakfast TV show This Morning have hailed a "brave" man for speaking about life with a micropenis - even if they admitted to feeling awkward when he demonstrated how long it was when erect.
Ant Smith has endured ridicule and suffered with low self-esteem throughout his life because of his one-inch - 2.5cm - penis, but is now seeking to encourage other men with the issue to be proud and happy.
According to the Daily Mail, the 50-year-old poet became known for his penis length when he wrote and performed a poem called Shorty in 2015.
Since then, he has written a book called Small Penis Bible, which talks with humour and real-life stories about life for those with a small manhood.
He appeared on the This Morning sofa on ITV to talk to stand-in hosts Ruth Langford and Eamonn Holmes.
Smith was asked to demonstrate on a cardboard cut-out model how he looks before and during an erection, compared with an average penis when flaccid.
Langford asked: "So it's one inch flaccid?"
As he pulled the penis, Smith said: "This is one of the beauties of it, because of the amount of extension."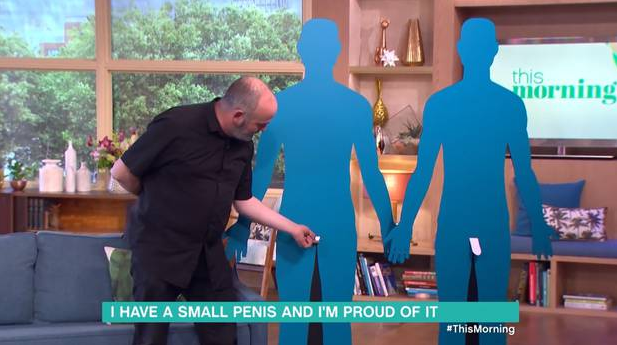 Ant showing his flacid penis on the cutout. Photo / ITV
Holmes commented: "You feel you can do a lot when you are at full working capacity."
Smith replied: "Yeah, I use more than just that part of my anatomy in my relationship with my beautiful wife."
Ant also said that keeping his weight under control was one way to make sure he didn't lose any valuable centimetres of manhood.
He added: "I spent years thinking I wasn't normal and it's actually very common."
Viewers praised his ability to speak openly, but did admit to feeling a little bit awkward by the topic.
Fans of the show also praised the presenters, who host when regulars Holly Willoughby and Philip Schofield are off, for managing not to laugh.
But some questioned whether Willoughby and Schofield had been kept away to make sure they didn't burst into their well-known fits of giggles.
It's not the first time Smith has been on the show's sofa to talk about his penis. In 2016, he was interviewed by Langford and Holmes alongside Jack and Clive who also have micropenises.
Half of men admit to being concerned their penises are too small, according to the show.
In his earlier appearance, Smith admitted to being worried about having his first encounter with a new woman when he was going through his teenage years.
But he said his wife had never been aware that he had an issue with it, or that there was a problem, even though they'd been together 16 years.
Smith lives with his wife Christine in Barking, east London.
A micropenis is usually defined as one two-and-a-half times smaller than the average penis length when erect, or less than 2.75 inches (7cm).
A systematic review published in 2015 put the average flaccid length penis at about 3.5 inches (9cm), and the average erect at 5 inches (13cm).
This article was first published on Daily Mail and is republished here with permission.