Hundreds attend reggae legend Carl Perkins' funeral in Raetihi
Publish Date

Monday, 14 May 2018, 5:09PM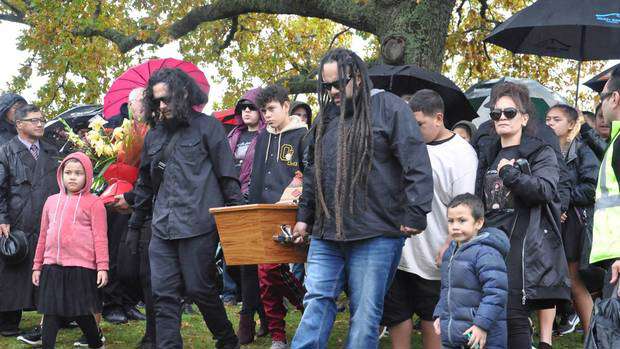 It was beautiful to see everybody come together to say goodbye to reggae musician Carl Perkins, his son Te Omeka Perkins says.
The tangi took place at Raetihi's Te Puke Marae, with burial at Raetihi Lawn Cemetery, on Saturday. Perkins had died of bowel cancer last Wednesday.
The tangi showed the impact Perkins' music has had on the world, his son said. In 1984 Perkins was a member of Herbs, a pioneering band that set a standard for Pacific reggae which some feel has never been surpassed.
In the 2000s he went on to found the band House of Shem, with his two sons, Te Omeka and Isaiah. House of Shem have toured the world, released three albums and played to thousands at festivals.
Māori composer and recording artist Ruia Aperahama said House of Shem were the best reggae band in New Zealand, because their songs always glorified a higher being.
Ratana/Whanganui musician Kai Arahi Hagger was at the tangi and estimated there would have been 1000 people there.
"There were traffic cops on the road. Everywhere was just packed with cars."
Among those attending were other musicians, including members of Twelve Tribes of Israel, Ardijah and Herbs. Māori TV filmed the event.
As well as being a musician Perkins was an āpotoro wairua (a lay reader or spiritual counsellor) of the Rātana Church. Rātana āpotoro rēhita Puhi Pene was there for the tangi, and the Rātana choir sang.
There were also two Rātana bands - the yellow-clad Te Whaea o te Katoa band and the blue-clad Te Reo o te Arepa band.
"It was beautiful seeing the Rātana band there," Te Omeka said.
Hagger said Perkins was a beautiful person, and it was a spiritual and "really loving" tangi.
"The rain put that kind of sadness in it."
NZ Herald