American college football player's emotional pre-game haka
Publish Date

Thursday, 18 October 2018, 7:22PM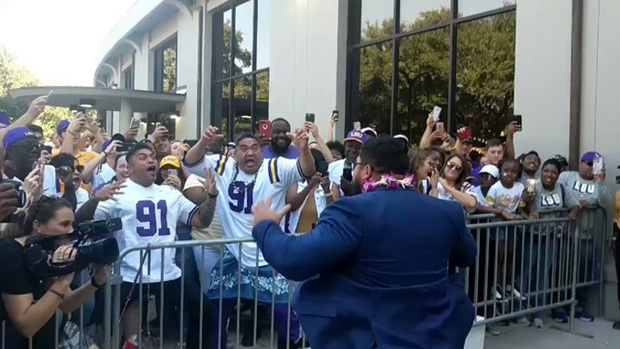 An American college football player has captured overseas attention after joining in with his father and brother in an emotional family Haka. 
Breiden Fehoko, who plays American Football for Louisiana State University had arrived at the team's home stadium last weekend ahead of their game when his father Vili, and brother Sam performed 'Ka Mate' for him. 
READ MORE: Watch a new All Black receive an emotional haka from his whānau
Naturally, that caused the crowd and Breiden to get super excited and Breiden joined in with his father and brother. 
When asked by media at a press conference about why the Haka is so important to him and his whānau he said that "The reason why I get so fired up is the meaning behind it," Fehoko said. "Man, when you do that, my mind just flips. I knew I was going to be ready to go. My spine tingles thinking about it," he said. 
And it looks like his Haka has got his teammates excited too. One of Fehoko's team-mates said he would be joining in next time. "I gotta do it with you next time, man!. I'm doing it with your daddy next time."
There's nothing like a family Haka!