Air from New Zealand for sale at a duty free shop for $100
Publish Date

Friday, 5 October 2018, 4:46PM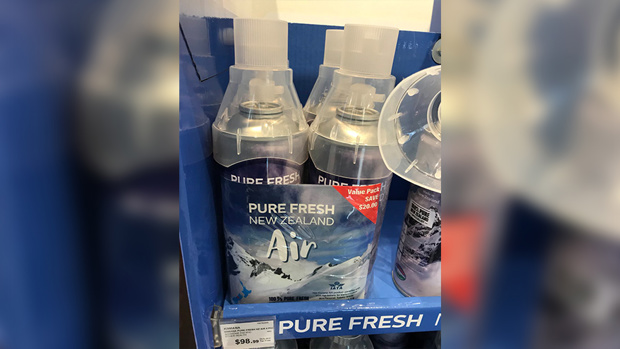 There's a saying that you are entitled to free fresh air, and that's it, but apparently, that's not the case anymore.
Cans of New Zealand air have sparked outrage after they were spotted on sale for almost $100.
Four cans of the 'Pure Fresh New Zealand Air' were seen on display with a price tag of $98.99 at a duty-free shop at Auckland International Airport, the Daily Mail reported.
A photo of the 'value pack' cans - saving customers $20 off the normal retail price - was shared to Twitter by journalist Damian Christie on Thursday.
"You've got to be s***ting me. Also, $98 so not exactly a cute prank gift," he posted alongside the photo.
READ MORE: The lollies that need to make a comeback!
The bottles - which come with breathing masks attached - are sold around the world by a company called Kiwiana.
Five-litre cans of air are sold on the Kiwiana website for $34.50 each.
"New Zealand's unique position in the Southern Ocean means Kiwiana Air has crossed no major landmass before flowing over the pristine Southern Alps of New Zealand and into this can," a message on the back of the product reads.
"We have hit peak capitalism," one person said.
READ MORE: L & P have dropped a new flavour!
According to the Kiwiana website, the company harvests the air "above the snow line" on New Zealand's South Island.
"High in the Southern Alps of New Zealand above the snow line and hundreds of kilometres away from civilisation or any human activity is where the air in your can has come from," the website states.
"This is the purest air you will ever breath"
Kiwi air is pretty good, but do we really need to be selling it?! 
This article was first published on nzherald.co.nz and is republished here with permission.