How Tom Francis managed to land a song with Snoop Dogg
Publish Date

Thursday, 22 February 2018, 12:21PM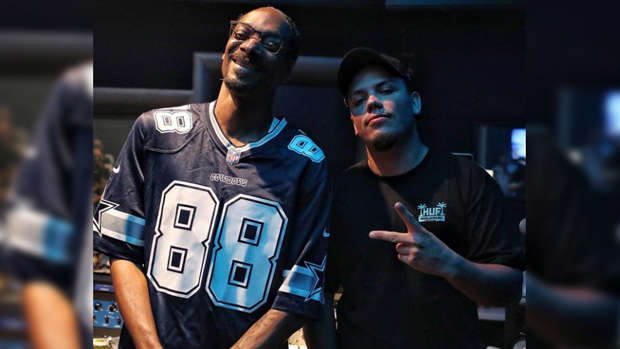 If you're Tom Francis things aren't quite going to plan. Sure, he may be hanging out with hip-hop taste makers like Wiz Khalifa and Andre 3000, and enjoying recording sessions with Snoop Dogg, but do you think he can get an Uber?
On a busy afternoon in the middle of Los Angeles the flustered rapper is struggling to get picked up whenTimeOut calls.
There's yelling, his phone fades out, then a motorbike cruises by. "Americans are loud as f***," he declares.
Then he apologises: "I'm all over the place at the moment."
He might be having a tough time with his life admin right now, but the Hawke's Bay rapper's fledgling career is going places.
Tomorrow, the 22-year-old releases his second album. Called The Follow Up, it's full of hard-edged beats, knotted rhyme schemes and guest spots from some familiar American rap faces, like Royce Da 5'9.
That's not all: next month Francis has a collaboration song with hip-hop godfather Snoop Dogg landing. Today, he's a little hesitant to talk about it, saying only: "I can't really get into that yet."
Later today, he'll touch down in Auckland to attend the Young New Zealander of the Year awards, where he's a top 10 semi-finalist.
That's not a bad effort from someone who just three years ago, thought his future was in firewood.
"I never thought I'd be doing this shit," he says. "I was all into the whole forestry scene, the firewood, doing that. I had a firewood business. It was the standard thing for Hawke's Bay."
Instead, Francis and a friend started a clothing label, and began rapping together. The results weren't great. "I didn't know how to write a song. I didn't know the difference between a hook of a song, and a verse."
But he persisted, knowing he'd have to overcome one big obstacle if he was going to make it as a rapper: his shyness.
He and his friend "sat in the car and just rapped to each other".
"I said, 'It doesn't matter what we're talking about, let's just get this (shyness) out of the way. I'm sick of being too embarrassed to do anything.' It was a huge step."
While his friend gave up and became an engineer, Francis persisted with hip-hop. Now he's in L.A, partying with rap royalty and even being invited to hang with Snoop at his house.
Has the Doggfather given Francis any advice? "Stay passionate about the music," he says. "It's not a good thing to be caught up in cars and money and all that shit. At the end of the day, the root of it all is music.
"If you're focusing on getting a car you're going to make a shit song."
Francis' Uber finally arrives. Where's he going? "I'm meeting up with (Snoop) later tonight. We're going with Floyd Mayweather to a party," he says.
Does he get starstruck? "I don't treat them any different to anyone else I know," he says.
But: "You pinch yourself a little bit. This isn't an everyday sort of occurrence."
NZ Herald.