TY feat. Sesh - Spend It Pt.2
Publish Date

Wednesday, 24 April 2019, 12:11PM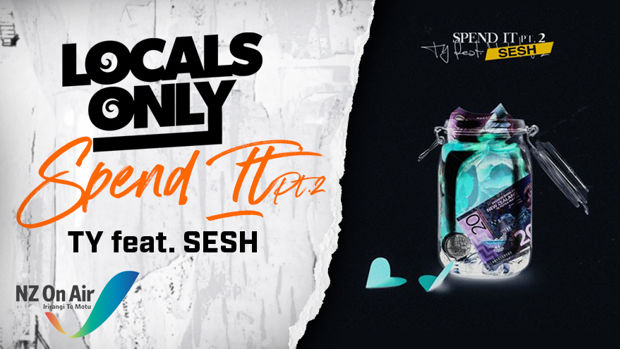 TY's new music project for 2019 continues with 'Spend It Pt. 2' featuring Sesh. Produced by label mate Cody Wave, this song looks at a relationship as the 'other guy'.
TY's new music project (which is being produced with the support of NZ On Air) looks at themes of love and relationships, and he also showcases more of the singing abilities he has rather than being TY 'the rapper'.
Multi award-winning chart-topping hip hop artist TY (Tyree Tautogia) has come a long way since his early days making mixtapes in South Auckland with fellow Smashproof members Deach and Sid Diamond.
A Papatoetoe native of Niuean descent, TY was spotted by hip-hop producer Juse (Justin Ferguson) in 2004. Recognising his talent after seeing a video of TY's on Maori TV, Juse linked up and set about recording demos with him, developing his talents as a rapper, songwriter, musician and producer. Subsequently on a visit to the US Juse took the opportunity to play the demos to NYC NZ-expat music executive Kirk Harding. Within a week the pair had planned a record label - Move The Crowd - with TY as the first signing and Smashproof following quickly after.
Smashproof became a household name in 2009 with their triple-platinum smash hit 'Brother' featuring Gin Wigmore. The track made New Zealand history, breaking a 23-year record (which it still retains) by becoming the longest running #1 by any local artist on the NZ Top 40 Singles Chart with 11 weeks at the top of the chart. The trio's debut album, THE WEEKEND, was released the same year, peaking at #3 on the New Zealand Top 40 Albums chart, with three consecutive top twenty singles. Smashproof went on to win three New Zealand Music Awards in 2009; 'People's Choice', 'Highest Selling Single' and 'Best Video' with director Chris Graham.
Over the past ten years TY has firmly established himself as a solo artist, clocking up over seven million views and streams on YouTube and Spotify, across three albums; NOW OR NEVER, MOTIVATION and ONE HUNDRED.
TY has toured extensively throughout New Zealand, Australia and the Pacific, gaining an extensive fan base, including opening for Jay-Z on the Australian leg of his tour, and picked up 'Best Male Artist' at the Australasian Urban Music Awards in 2007. TY started his own label in 2010, Empire Records, signing artists such as Cody Wave, JSH., Tipene, Taye Williams and Tazman Jack.
With the release of his third solo album in 2017, TY drew upon recent personal growth, as well as having full creative control and freedom for the first time, as inspirations behind the record and its title, ONE HUNDRED. The album featured the hits 'Turn Me On' featuring PT, 'It's Nothin' featuring Donell Lewis, 'All The Way' featuring Pieter T and Donnell Lewis, along with 'No Option' featuring Manu Crook$ and 'Discovery' featuring Mikey Mayz.
TY's new music project (which is being produced with the support of NZ On Air) carries themes of love and support throughout, which reflects his positive state of mind after a tumultuous 2017 in which things weren't so rosy in his personal life, behind the scenes of his successful album ONE HUNDRED.
With TY"s new music, he also showcases more of the singing abilities he has rather than being TY 'the rapper'.
Outside of music, TY has worked as a teacher aide at Auckland's Rosehill Intermediate School, and works as a personal trainer with a passion for diet and fitness.
Connect with TY online
Twitter | Facebook | Instagram | Snapchat: ty_smashproof