SIX60 LIVE AT WESTERN SPRINGS
Publish Date

Thursday, 28 June 2018, 8:34AM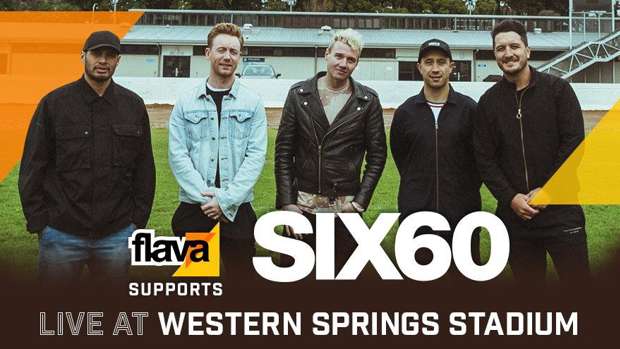 Eccles Entertainment presents
SIX60 - SUMMER 2019
ONE SHOW ONLY
WESTERN SPRINGS STADIUM
SATURDAY 23RD FEBRUARY
FIELD AND TERRACES ARE SOLD OUT, EMBANKMENT TICKETS ARE STILL AVAILABLE.
SIX60 announce their plans for next summer, and and the news is both huge and groundbreaking. SIX60 will be the first New Zealand band ever to headline at the iconic venue, Western Springs Stadium.
The concert on Saturday 23rd February is the band's only New Zealand show this coming summer and fans from all over New Zealand are encouraged to make their plans to come to Auckland now.
If that news wasn't big enough, there's more! the all-ages show will also feature a supporting line-up curated by SIX60 of the biggest Kiwi acts right now DRAX Project, Sons of Zion, SWIDT and IllBaz.
This announcement comes after a record-breaking tour in summer 2018 that saw SIX60 play to over 40,000 fans around New Zealand following the release of their platinum certified six-track EP, with hits including 'Don't Give It Up' and current single 'Vibes'.
Tickets go on sale at midday on Friday 6 July at Ticketmaster.
Promoter Brent Eccles says that the time is right to put on a SIX60 concert at Western Springs Stadium.
"On their last tour SIX60 sold out Villa Maria with two months to spare, and then sold another 10,000 tickets for their concert in Whangarei. It's time to build on last summer and put on a history-making show at Western Springs."
Singer Matiu Walters says playing an iconic venue like Western Springs is a huge deal for the band and they're in full planning mode to make it an amazing experience for fans.
"We're going to be bringing some new music to the concert, as well as everyone's favourite songs and we're also focusing on how we can make the stage show really special. We're stoked that so many of our favourite acts are going to be playing the show with us."
This is SIX60's only New Zealand show this summer, and a concert not to be missed.
SIX60 - SUMMER 2019
ONE SHOW ONLY
WESTERN SPRINGS STADIUM
SATURDAY 23RD FEBRUARY
Tickets available from midday on Friday 6 July at Ticketmaster.co.nz, 0800 111 999 or at Ticketmaster outlets.
Tickets*
C Reserve - Bank                   $49.90
* Service fees apply