NELLY - LIVE IN AUCKLAND - Presented by Flava
Publish Date

Thursday, 20 December 2018, 5:59PM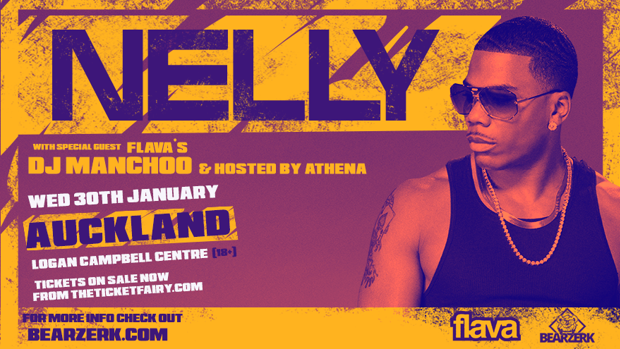 Bearzerk and Flava are beyond excited to announce that while Grammy-winning rap icon Nelly is in the region touring Australasia, he will also perform an exclusive one-off headline show in Auckland on Wednesday the 30th of January.
There is no doubt Auckland's Logan Campbell Centre will be getting 'Hot In Herre'!
Hailing from St. Louis, Missouri, Nelly has always had a broad crossover appeal with his pop-rap approach to RNB. His debut 2000 album Country Grammar peaked at #1 on the Billboard 200 Album Chart. It has sold over 10 million copies worldwide and is certified diamond in the US, making it Nelly's best-selling album to date.
 Since then, Nelly has put out six more albums, won two Grammys and worked with megastars Justin Timberlake, Pharrell, Ciara, The Neptunes and Fergie to name just a few!
Nelly has stayed hot on our radios for the past 18 years, putting out iconic jams 'Dilemma (ft. Kelly Rowland)', 'Ride Wit Me' and 'Just A Dream', which have collectively amassed over 1.5 billion streams across YouTube and Spotify. Showing no signs of slowing down, his latest single 'Freaky With You (feat. Jacquees)' was released in April of this year and already has over 4 million streams on YouTube.
When last in the region, Nelly treated crowds to a night of nostalgia and euphoric singalongs:
 'Just when it looked like the crowd had lost its energy, Nelly perked them right back up with his intro track E.I… but it was Dilemma that turned up the heat, as he let everyone take over Kelly Rowland's final chorus; the musician had a huge smile on his dial as we sang "Nelly I…love you and I… need you.' – Stack
'Nelly did not disappoint – 'Hot in Herre' from the 2002 Nellyville album absolutely brought the roof down, with the crowd led chorus easily drowning out the singer himself (much to the genuine delight on his face).' – Ambient Light
These shows are going to go off so fans are encouraged to act quickly to secure their tickets for a night with the king of RNB himself, Nelly!
NELLY - One off NEW ZEALAND SHOW - JANUARY 30 2019 Presented by Bearzerk, Flava, Frontier Touring and Illusive Presents
GENERAL PUBLIC ON SALE Begins: Friday 21 December (9am local time)
Tickets available from here or at bearzerk.com