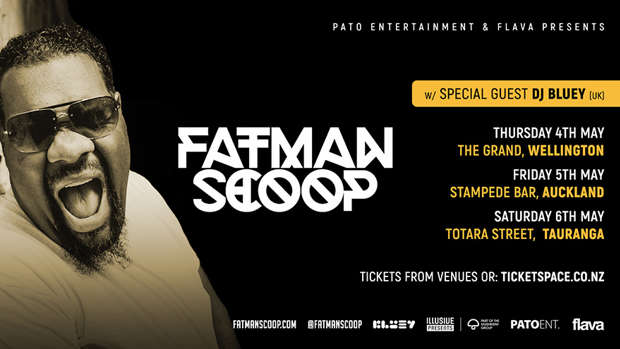 FLAVA & PATO ENTERTAINMENT PRESENT…
FATMAN SCOOP
IN NEW ZEALAND FOR THE VERY FIRST TIME THIS MAY FOR THE 'SUNRISE' TOUR

With special guest DJ Bluey
 
All tickets on sale Thursday March 23 at 7pm from www.ticketspace.co.nz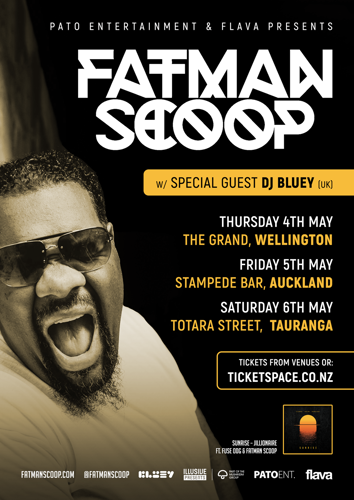 America's favourite hype man - Fatman Scoop – is coming to New Zealand for the very first time this May, with support from UK beat man DJ Bluey.
Fatman Scoop is notorious for shouting his name and requesting that you do whatever he tells you… so put your hands up! Whether it's Scoop's rambunctious baritone hyping a track or video cameos for P.Diddy, 50 Cent, or Elephant Man to name a few, Scoop's booming voice, catchy hooks, electrifying energy and charismatic presence never go unnoticed!
His most recent track 'Sunrise' (out now through Liberator Music) sees him collaborate with Major Lazer member Jillionaire, and the Ghanaian MC Fuse ODG. Premiered on Beats 1 with Zane Lowe, the feel-good anthem pairs Scoop's commanding vocals with Fuse ODG's rousing melodies.
The song's accompanying video depicts life in Darak, Senegal.
https://www.youtube.com/watch?v=IRIszAE1ZlA

fatmanscoop.com | facebook.com/fatmanscoop
Twitter @fatmanscoop  | Instagram @fatmanscoop