Publish Date

Tuesday, 21 November 2017, 8:19AM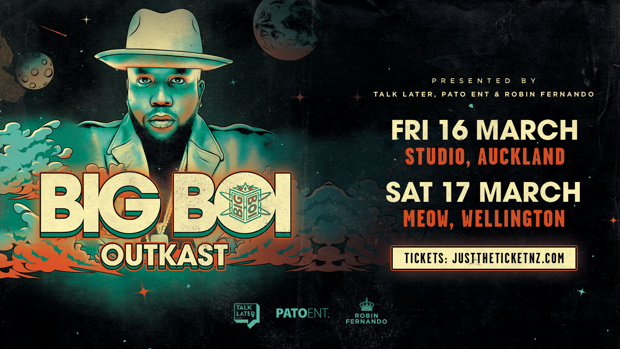 Seven-time Grammy Award-winning artist Big Boi is returning to New Zealand for two headline performances in March 2018.
BIG BOI – LIVE IN NEW ZEALAND
Friday, March 16
Studio, Auckland
Saturday, March 17
Meow, Wellington
 Tickets on sale at 9.00am on Thursday, November 23.
Tickets from www.justtheticketnz.com  
One of music's greatest rhyme mavericks, Big Boi's indelible influence remains unwavered across two generations of rap music. He released his third full-length solo album, BOOMIVERSE earlier this year, containing the singles 'In The South' with Gucci Mane & Pimp C, 'Mic Jack' feat. Adam Levine, 'Kill Jill' feat. Killer Mike & Jeezy, and 'Chocolate' feat. Trozé resonates with media and fans worldwide.
Big Boi's first 2010 solo record, SIR LUCIOUS LEFT FOOT: THE SON OF CHICO DUSTY peaked at #3 on the US charts and received unanimous critical acclaim with Pitchfork proclaiming it one of the "100 Best Albums of the Decade So Far'" and topping year-end lists from the likes of Time Magazine and Paste. His 2012 follow-up VICIOUS LIES AND DANGEROUS RUMOURS enamoured tastemakers and fans alike and featured collaborations with A$AP Rocky, Killer Mike, Kid Cudi, and more. In 2015, Big Boi collaborated with Phantogram to create supergroup Big Grams, releasing a widely acclaimed self-titled debut album.
As one-half of Outkast, Big Boi released a string of music's most influential works, including AQUEMINI, STANKONIA, SOUTHERNPLAYALISTICA-DILLACMUZIK and SPEAKERBOXXX/THE LOVE BELOW - the latter making the duo the first and only hip-hop artist in history to win the Grammy for 'Album of the Year'.
Don't miss one of hip-hop's greatest phenomenon up close and personal this March.