Publish Date

Wednesday, 26 July 2017, 7:48AM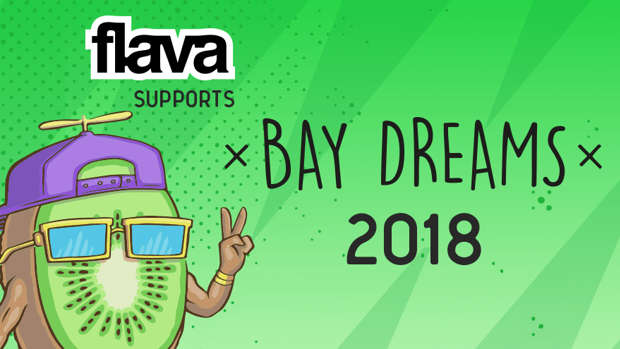 Machine Gun Kelly and other big hitters join the Bay Dreams line-up
- Festival just weeks away from selling out
- Third big announcement coming soon, including another headliner
With Bay Dreams 2018 heading towards yet another sell-out year, promoters have today sealed its reputation as a 'bucket list' festival, announcing the second wave of exciting international and local acts.
Joining the stellar line-up for the January 2 festival - and his first-time ever in New Zealand - is US rapper Machine Gun Kelly, whose 2016 collab with Camila Cabello, 'Bad Things', shot into the Billboard Hot 100 chart and paved the way for this year's critically acclaimed album BLOOM. 
One of the most talked about acts on the drum 'n' bass scene, and arguably one of New Zelaand's finest live acts right now, The Upbeats (and special MC guest to be announced soon) also join the bill. Renowned for their 'anything goes' explosive and energetic shows and their unique take on 170bpm+ bass music, this is tipped to be one of the 'must see' sets at the Bay Dreams 2018 festival.
Maribou State, who'll be playing a DJ set, are another drawcard. The British duo burst onto the electronic music scene in 2011 with their feel-good summer tune 'Scarlett Groove' and have produced some of the finest remixes in the game.
Deadbeat, a new project led by Shelton Woolright (I Am Giant, Blindspott) are also a must-see. Their set promises to be a sonic and visual feast.
Also in today's announcement are: Written By Wolves, Trei, Flowidus, Spectrum and Jason Davis.
Bay Dreams returns on January 2, 2018 with an impressive line-up, firming up its reputation as 'the summer music festival you just can't miss'.
BAY DREAMS 2018 FIRST LINE-UP:
DJ Snake  |  Pendulum  |  Foster The People  |  $uicideBoys  |  Flatbush Zombies
Ocean Alley  |  Homebrew  |  Classixx  |  Krafty Kuts + Chali 2na  |  Opiuo  |  FKJ
Sons of Zion  |  Hybrid Minds  |  Swindail  |  Sachi  |  Eptic  |  Skism  |  A.Skillz
P-Money  |  Matrix & Futurebound  |  Cynatific  |  Koven  |  Truth  |  Willaris.K
Concord Dawn  |  Theia  |  Nyxen  |  Bailey Wiley  |  T1R  |  TwentyTwo
Bay Dreams 2017 sold out in record time you'll need to get in quick to secure your spot at the festival of summer.
Tickets for Bay Dreams 2018 go on sale with a 24-hour ticket deal at 7.00pm Wednesday August 2 until 7.00pm Wednesday August 3.
General admission sales then start on Monday August 7 at 7pm.
Tickets available from www.baydreams.co.nz  
Spearheading the first line-up announcement is French DJ and producer extraordinaire DJ Snake, whose collabs with the likes of Major Lazer ('Lean On') and Justin Bieber ('Let Me Love You') have made him one of the most sought-after names in the business.
Aussie drum and bass heavyweights Pendulum, who have long been favourites on the festival circuit, also make up on the star-studded line-up. As do Californian indie-popstars Foster The People, who have just released their new album SACRED HEARTS CLUB.
The Bay Dreams pre-party on January 1 also returns in 2018. Although serving as a warm-up teaser to the main event, the pre-party has become an integral part of the Bay Dreams festival and next year it promises to be bigger and better, with promoters set to reveal more in the coming weeks.
A new feature of the Bay Dreams experience will be Dream City, which provides camping and its own exciting line-up of entertainment.